There have been so many great projects in this Liberty blog hop, and I've loved seeing what everyone has come up with! Today, I'm sharing my little tutorial for a block I call Hot Cross Buns.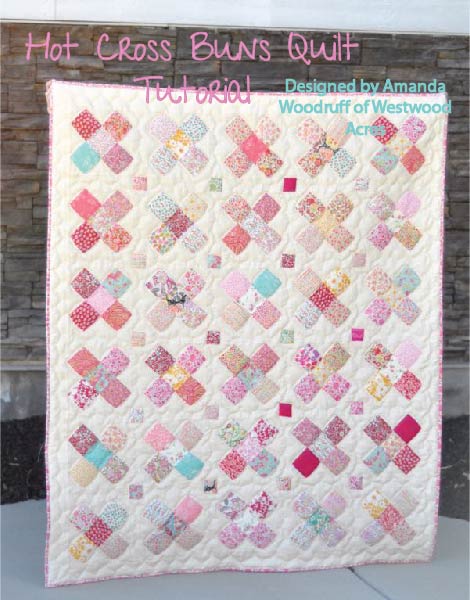 It's one of my favorite blocks and I've worked out the math so that you can make it with no waste. Because fabric is expensive! That's one of the reasons we created our little Give Me Liberty! Club in our shop. It made collecting Liberty Tana Lawn more affordable and less intimidating! If you are interested in starting your own Liberty collection, we'd love to have you join us!
Now, on to the tutorial!
So, let's get started!
Fabric Requirements for a baby quilt (roughly 48 x 56):
25-30 Fat Sixteenths of Liberty Lawn (I chose Cotton and Steel Bespoke Double Gauze – more on that later!)
2-1/4 Yards of Background Fabric
Cutting Instructions:
150 3″ Squares of Liberty Lawn (or prints of your choice)
20 2″ Squares of Liberty Lawn
60 3-3/8″ Squares of Background – Cut In Half Diagonally
30 3-3/4″ Squares of Background – Cut In Quarters Diagonally
44 2″ x 7.5″ Rectangles of Background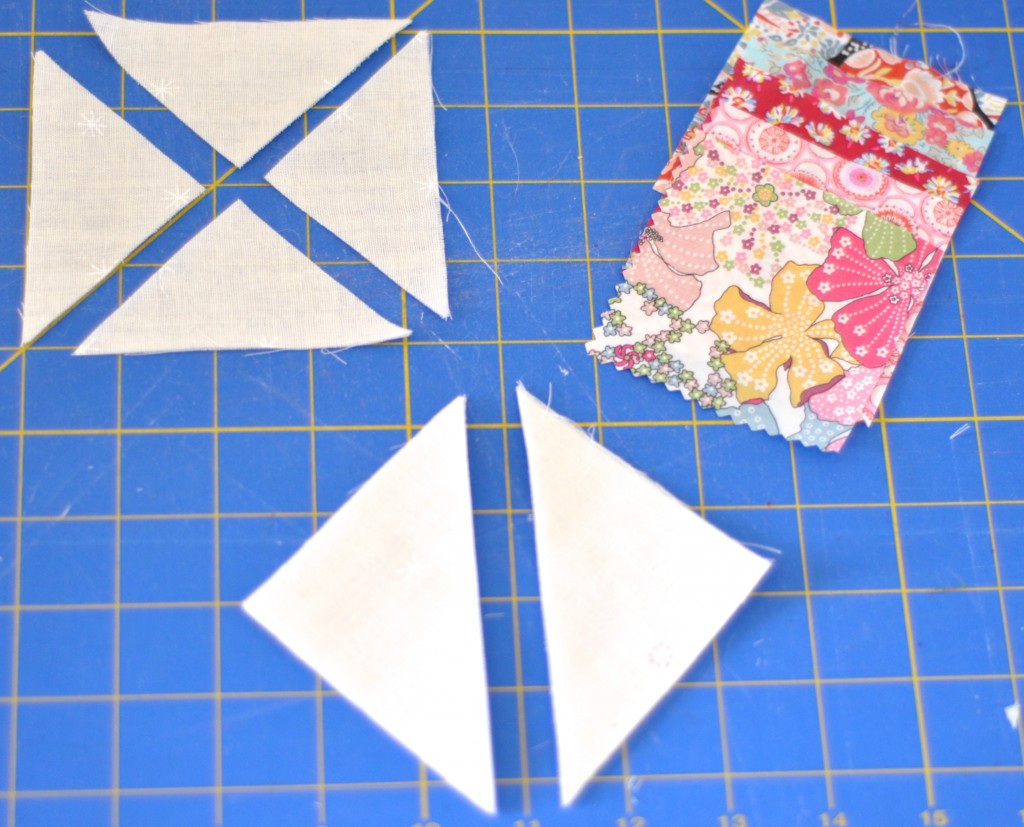 Lay your block out. I like to vary the inside and outside  squares for a little bit of contrast.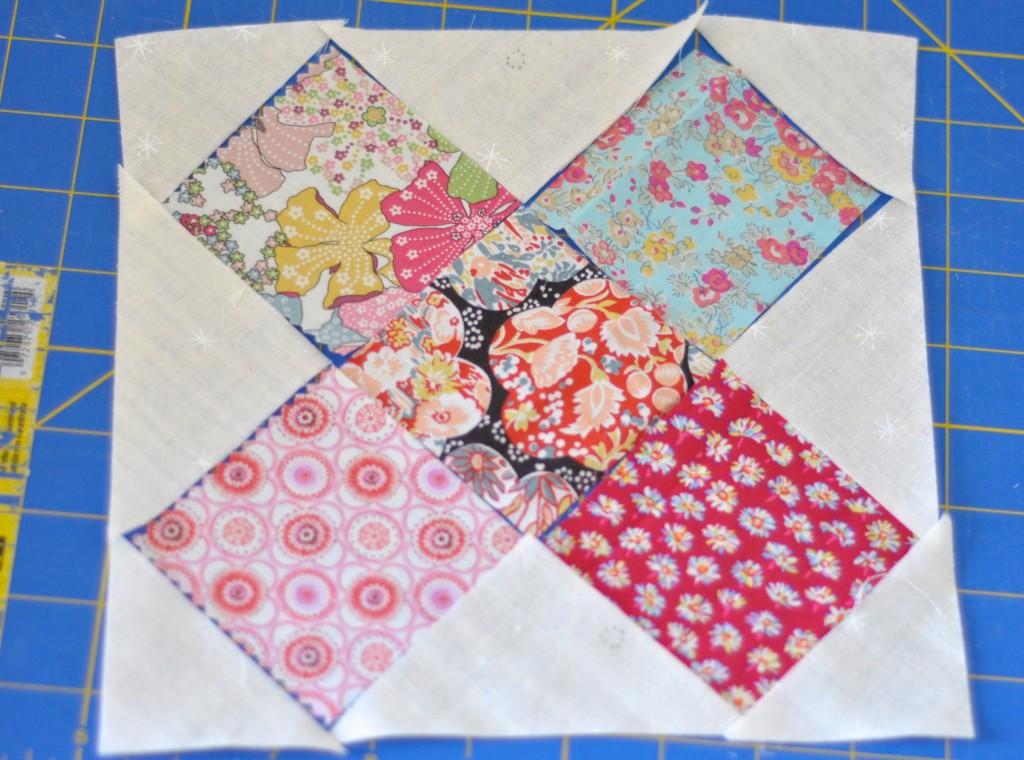 Sew Into Rows Diagonally and Press Seams so that they will lock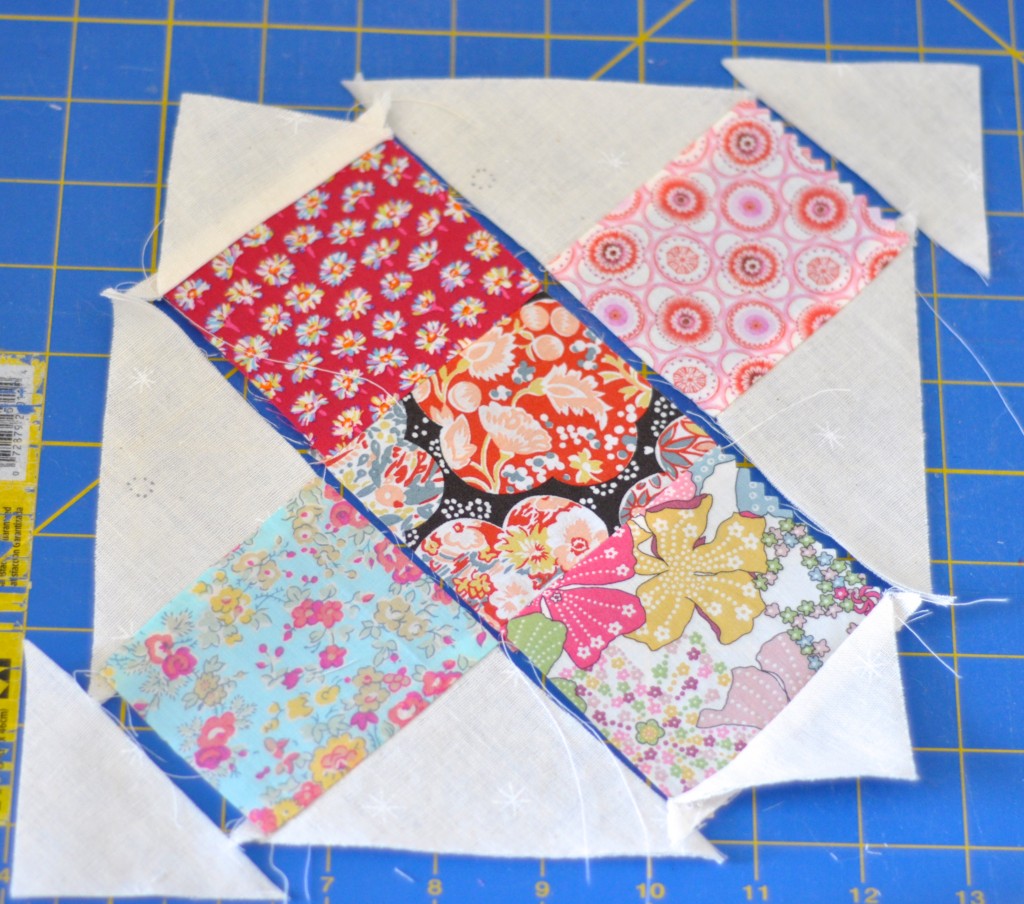 Stitch your rows together and add the triangles to the ends. You should have a 7.5″ square. I've also posted a picture of the back so you can see how the seams press together.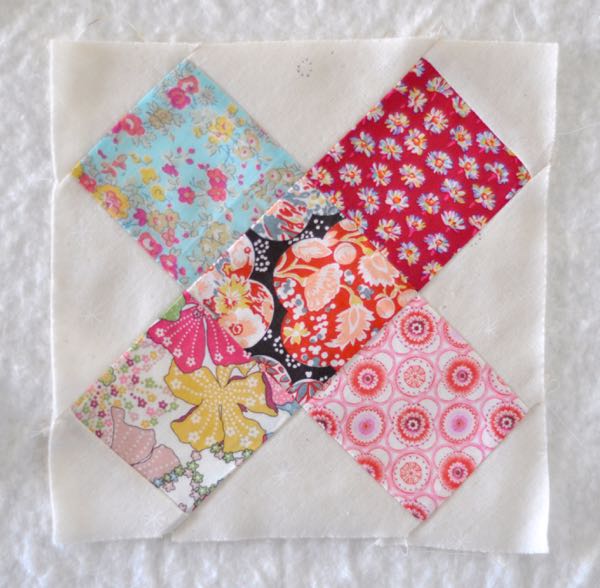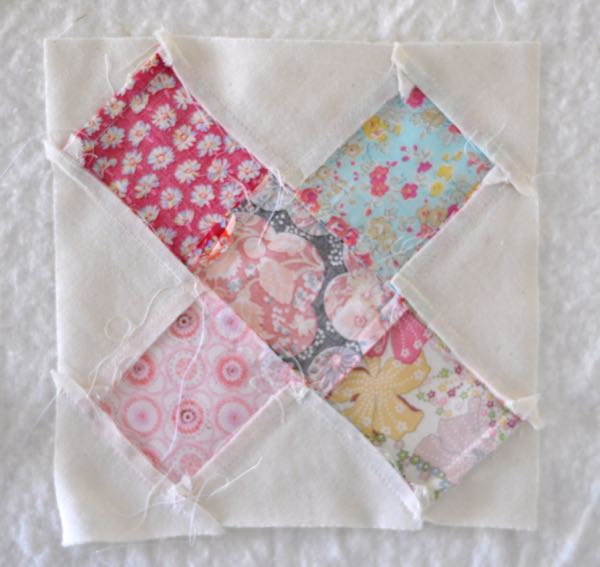 Lay out your blocks and begin adding your sashing.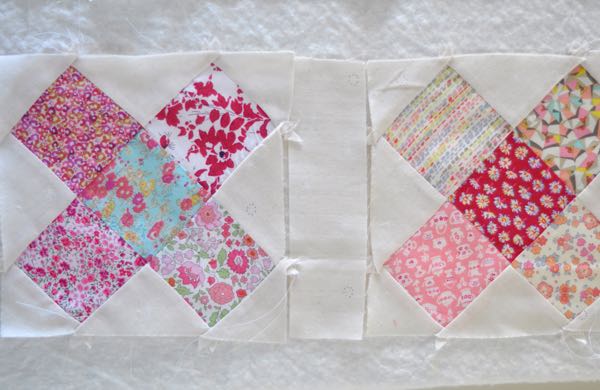 Sew the sashing rows together alternating background, liberty square, background, liberty square, etc.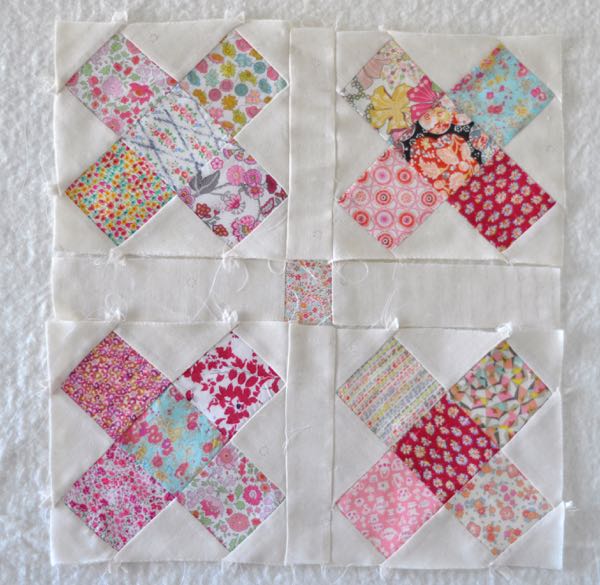 Stitch all your rows together. Measure your quilt top and bottom and cut your border 3″ by your measurement. If you used Double Gauze (it's so soft!) make sure not to stretch it when you measure! Sew Borders to top & bottom. Now measure your sides and cut background pieces 3″ x your measurement. You may need to sew more than one strip together.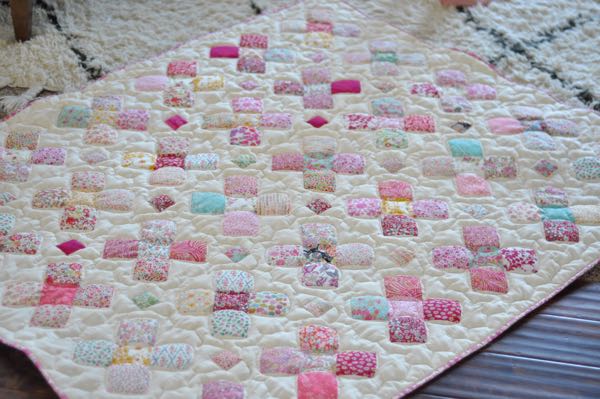 Ta Da! You should have a gorgeous finished top! I made mine for our new little addition and it was quilted by the amazing Melissa of Sew Shabby Quilting. She does the most amazing custom work! Thank you, Melissa!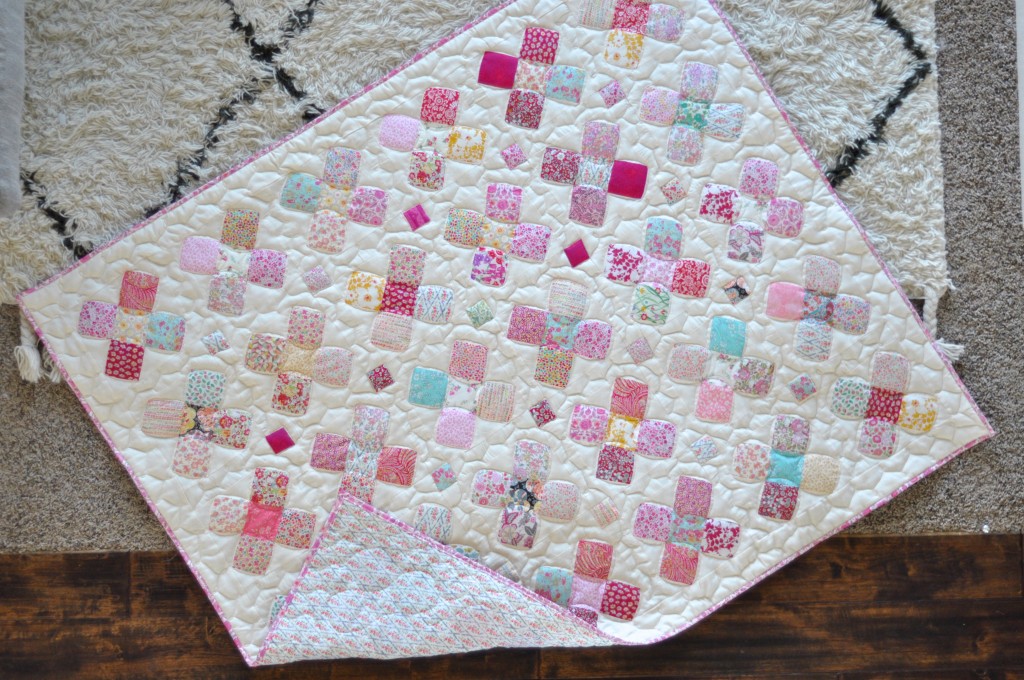 The batting is a wool quilters dream and it adds loft without too much puffiness. LOVE!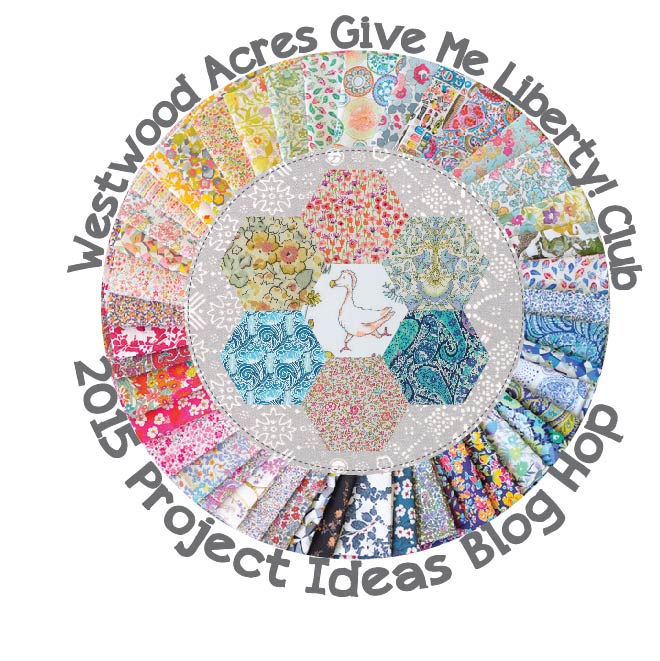 Thank you so much for following along on our little blog hop! If you haven't already, you'll want to stop by all of the amazing blogs that created some fabulous quilts!
February 24th: A Crafty Fox (here!)<a
February 25th: Astrid at Red, Red Completely Red
February 26th: Svetlana at Sotak Handmade
February 26th: Andy at A Bright Corner
February 27th: Chase at Quarter Inch Mark
March 1st: Emily at Simple Girl Simple Life
March 2nd: Ashley at Film In The Fridge
March 3rd: Lee at Freshly Pieced
March 4th: Audrie at Blue is Bleu
March 5th: Amanda at A Crafty Fox