I want to thank everyone who commented on my birthday post. It seems that so many of us confront the same challenges and from the sounds of it, I think each and every one of us deserves a wee bit of a break. I hope you will forgive me for my tardiness in announcing the winner for my giveaway. I'll confess that I chose the winner over a week ago, but I have been pulling and auditioning fabrics to send off to the lovely number 309 also known as Katy.


Katy said that she loves Parson Gray fabrics. I didn't have even one thread of Parson Gray, although it is a fabulous line. It seems I love to collect sew with super saturated colors, with an apparent emphasis on warm tones. Luckily the fabulous (and local!) Cornwagon Quilt Shop still had bunches of prints left and I brought a few home with me to start making a pretty pile for Katy. I pulled some fun greys from my stash including my very favorite text print by Sweetwater. I added a little bit of Heather Ross that I thought added to the pile but wasn't her usual super bright color scheme. There is a little bit of Tula Pink, some Henna Garden and some lovely Lotus Dots from Amy Butler. And that Hope Valley print seems to go with everything! (I may have bought 3 yards of it when it came out…). The pile still seemed a tad washed out, so I added the Denyse Schmidt Gold Modern Texture to add just a little bit of spice to the pile.

I really really hope that she loves it!
I don't know about you, but I always wonder who Mr. Random would have picked next. I am curious like that. So, I told it to pick again, just to see who it was and what they hoped the fabric fairy would bring to them.


It turns out that Lucy at Charm About You would have come in second. And her wish for DS Quilts fabrics kind of hit a little bit of a soft spot with me. You see, a bit over a year ago, I created this post raving about these lovely fabrics. And I listed one fat quarter bundle on etsy.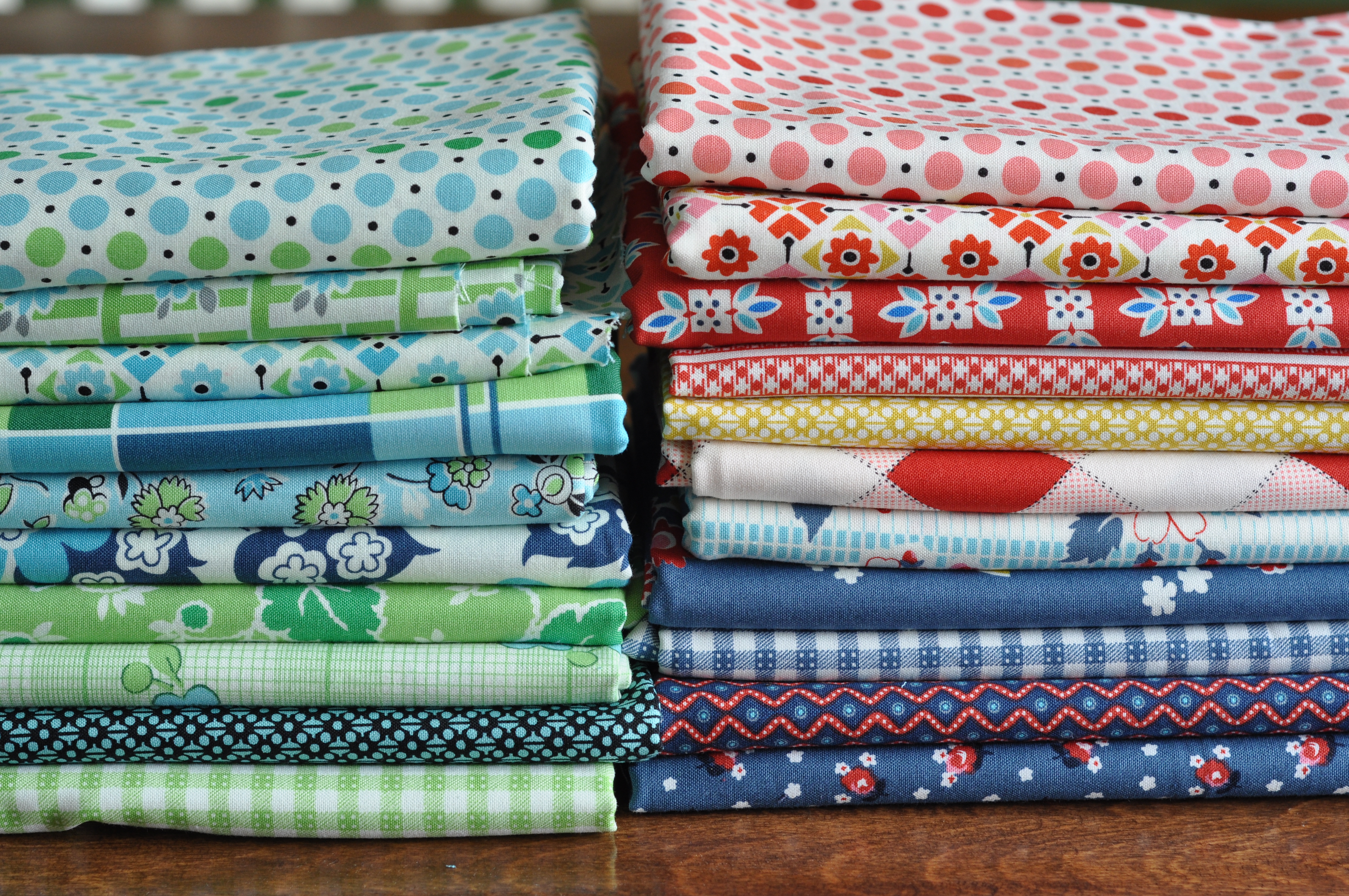 And then my life got crazy as people emailed asking for more and more and more of this fabric. And I stayed up cutting until 2 in the morning with my lovely husband folding and packaging and supporting me 200%. It was fun and perfect and we both agreed we simply LOVED fabric. My husband told me which prints were his favorites and described quilts (I have yet) to make with them. In short, we had a blast! So, at 2:30 in the morning, over piles and piles of DS Quilts, we decided to start our little shop.


And we are still having so much fun. And we wish we could personally thank every single one of you who has purchased from us, sent us positive words, or even just looked at our shop. Being able to do what I love, what I am really passionate about makes every day an adventure. Thank you!
So, Lucy, I hope the good vibes are catching since I will be sending a bit of DS Quilts, old and new, across the pond to you.
This was fun! I loved hearing everyones' thoughts on life-living and growing and keeping ourselves on track. I enjoyed putting together a bundle with someone specific in mind. I think we should do it again. Soon. Until then,
XO
Amanda