I cannot explain how excited I am to announce that our little shop has Flea Market Fancy available in Pre-cut Fat Quarter bundles, jelly rolls, charm packs, as well as half and full yard bundles!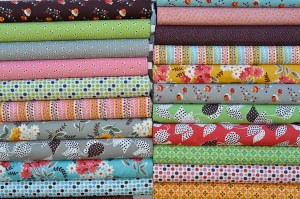 If you had asked me a month ago, I would have told you that we were closing our shop. What you wouldn't have known is that I was so tired I literally could barely stand up and walk from the couch to the kitchen. Luckily, we figured out the issue and I am much more myself again! So much so, that we have ordered a bunch of new fabrics for our fun little etsy shop and I am just thrilled to share them with you!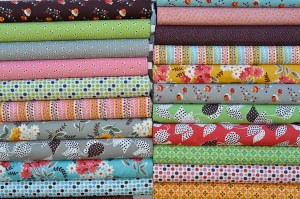 So, would you like to win a full Fat Quarter Bundle of Flea Market Fancy? I am dying to share! Just head over to my facebook page or twitter page and follow me and come on back and leave me a comment! Since Google did away with friend connect, I am feeling a little lonely…
That's it! I will pick one lucky winner at the end of the week (this friday) and mail the parcel off to wherever they live in the whole wide world!
Thanks for stopping by! Hope you guys are as excited as I am!