One of my favorite things to do is to curate fabric bundles. I love how really different fabrics can come together and be more than just themselves.  Not too long ago, a sweet customer asked me to give her an idea of how to use the olive Marth Negley feathers for a boy quilt.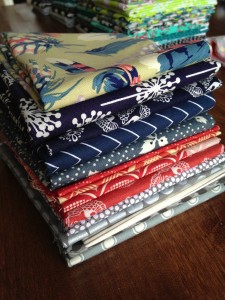 This little bundle languished on my counter for a few weeks until the right idea came along. I pulled a few fabrics out and added a few gold and yellows to really bring the quilt to life. I love it to pieces.


(Gratuitous baby shot)
I used my Samurai Stars tutorial and varied the centers so that some stars had hour glasses and some had solid centers.

Here's the finished project.

Yay for another finish in 2013!