Have you ever lost track of what day it is? That was me today. Crazy as it might seem, I woke up convinced it was Tuesday.  And then I realized it was Wednesday and my little mini quilt for Art Gallery's amazing blog tour was late late late! But, here it is and I really and truly love it. Like, I love it enough I'll be sharing a quick tutorial for this pattern with you SOON. It's my way of saying that you are the best. Cause my readers really really are (just check out the comments on my previous post if you don't believe me! So much great knowledge there!)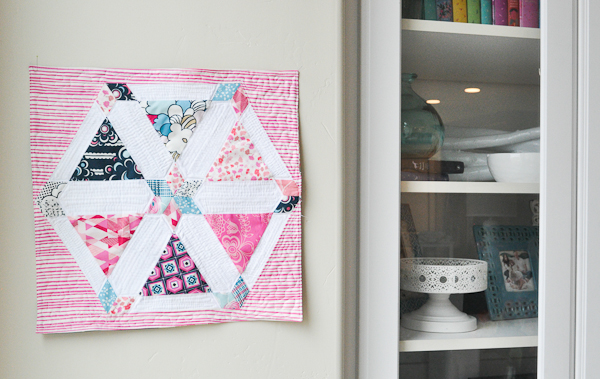 Today I got to play with the amazing Dare & Essentials collections from Pat Bravo. Have you ever had the privilege to meet Pat? She's amazing. The Energizer Bunny does not even compare. And her two newest collections play so so well together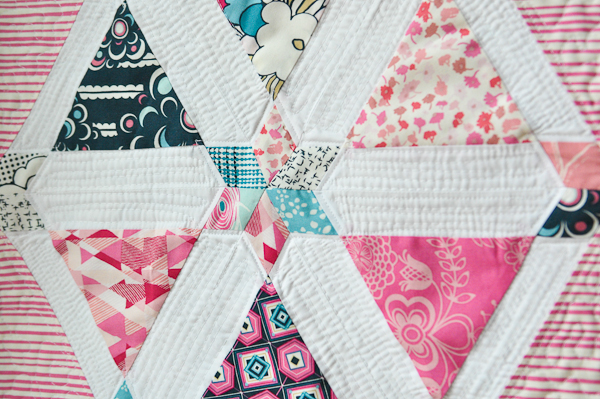 I wish these pictures did these collections justice. I may just take pictures of this little quilt for weeks until I find one that glows on the screen the way it glows in real life.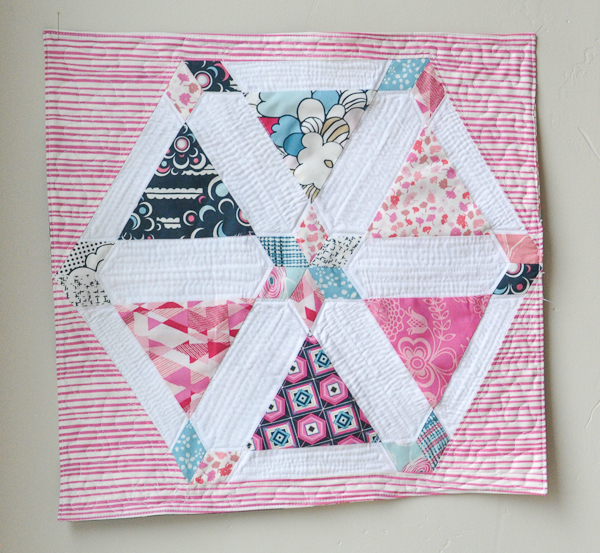 I had fun dreaming up this little mini quilt. My favorite shape in quilts is a six pointed star. This particular version is quite historic and you can find this shape in bunches of 'modern' quilts. I'm not sure what modern means, but if it means pairing pretty fabric with pretty patterns, I'm in!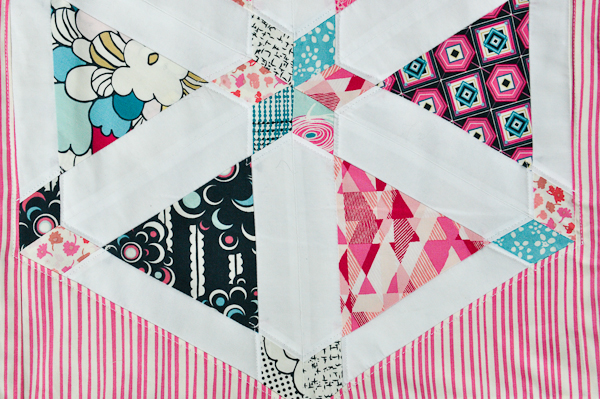 So, do you want to discuss perfect points? And how to get them more often? Read on, my friends because I have a simple solution. (Or maybe this is how you do it already?! If so, why did no one tell me about this sooner?!)
Instead of inserting your pins 90* to the edge where you want your points to meet, place them parallel at the 1/4″ point you generally sew at.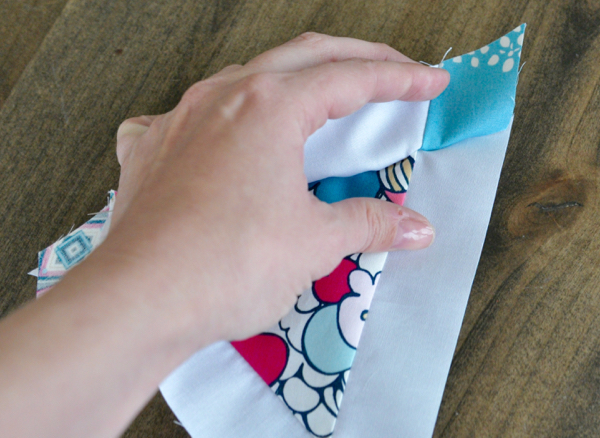 Pull your blocks back to check your points. If they aren't meeting the way you would like, just reposition and pin again. Sew them together with the point end of your pin going through your machine first, and then pull them out once you feel they are no longer necessary.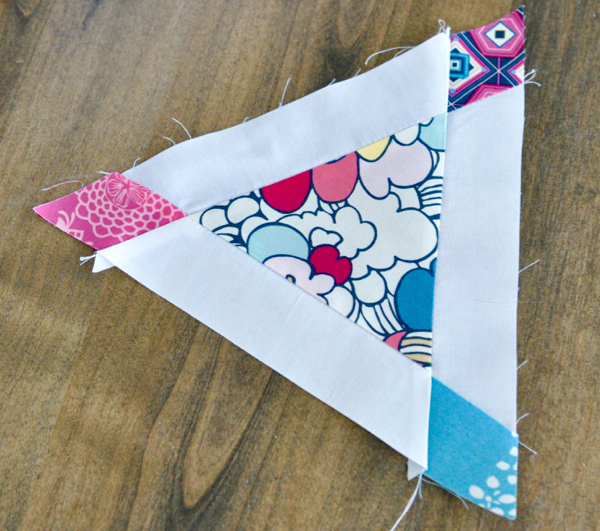 Seriously, if you knew about this and were holding out on me, I'll be sad. So will Ella. And she gets really loud when she's sad.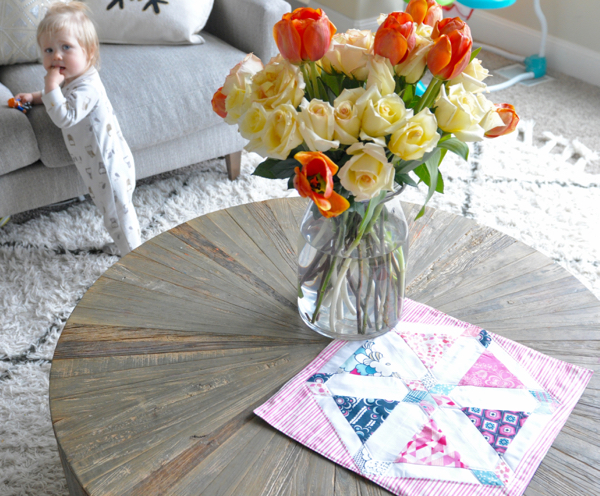 So, there you have it! My sweet little mini quilt made with luscious Art Gallery Fabrics. Sewing with them is seriously a treat and I'm so glad I got to take a few minutes today to enjoy them.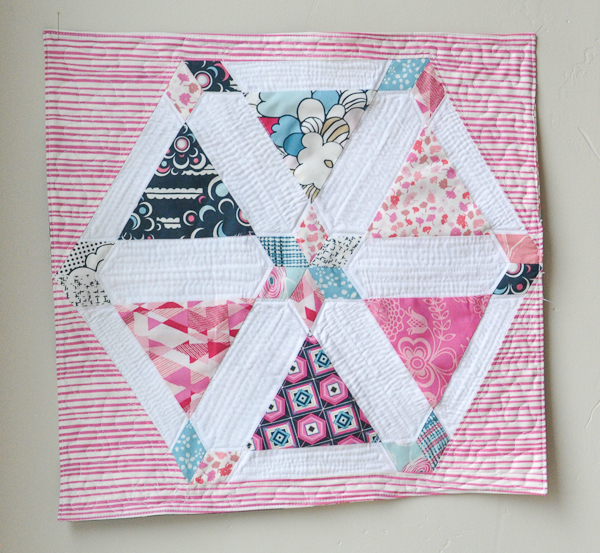 If you have been following The Art Gallery Minis Blog Tour, welcome! I'd love to have you take a peek around. I have lots of fun (free!) quilt tutorials here. And to make sure you get all of my tutorials, home ideas, lifestyle & helpful hints delivered straight to your inbox, make sure you sign up for my email list here!
You can see more amazing creations using Dare & Essentials at the following blogs:
Simple Life Blog
Snickerdoodle Stew
And you'll find even more inspiration tomorrow at the Why Not Sew & Anjeannette K Blogs!
If you'd like to see more of these great fabrics (the yellow in the essentials collection is perfect!) click through these fun links. And make sure to follow Pat on IG for a shocking amount of inspiration!
Essentials II Fabrics│http://www.patbravo.com/essentialsII.html
Dare Fabrics│http://www.patbravo.com/dare.html
Blog │http://patbravodesign.blogspot.com/
Instagram│https://instagram.com/patbravodesign/
Pinterest│https://www.pinterest.com/patbravo/
Facebook│https://www.facebook.com/PatBravoDesign  
Twitter│ https://twitter.com/PatBravoDesign
Essentials II LookBook│ bit.ly/essentials2lookbook
Dare LookBook│ http://bit.ly/1MSCEpw
Thank you for reading my little blog!