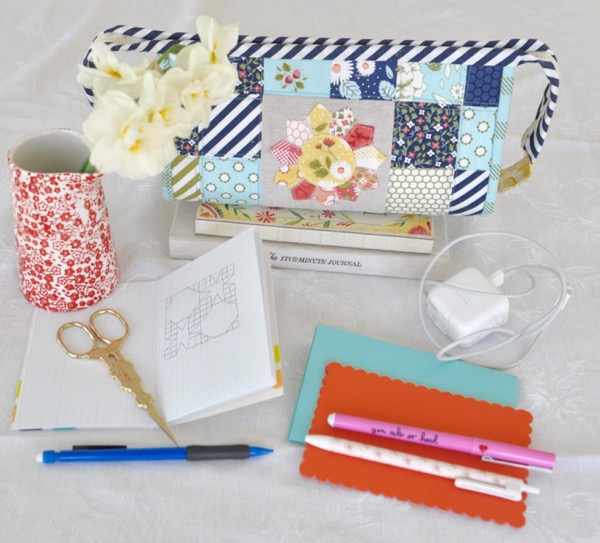 It's no secret I love to make bags I will use. It's been a few years since I made my first Sew Together Bags
and I really enjoyed the process of putting them together but somehow never got around to make one for myself. But when I saw Little Miss Sunshine, I knew what I wanted to make. I love the contrast between the blues & greens against the corals & yellows. While I love the colors, this collection just reminds me that the sun will come out tomorrow and sometimes I need that.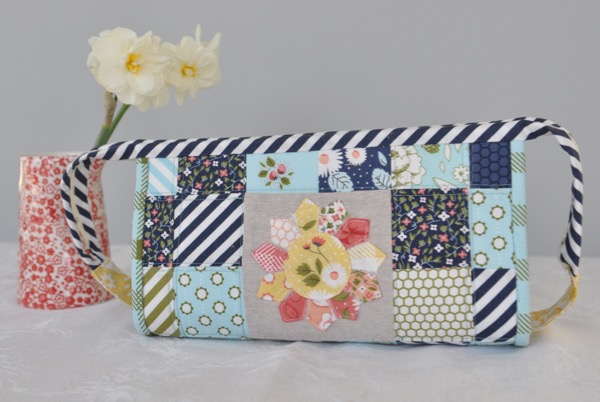 Once the bag was finished, I immediately realized that I am going to need a few more. There are three ways that I want to use this little bag so here are my ideas on how I want to put my new creation to use: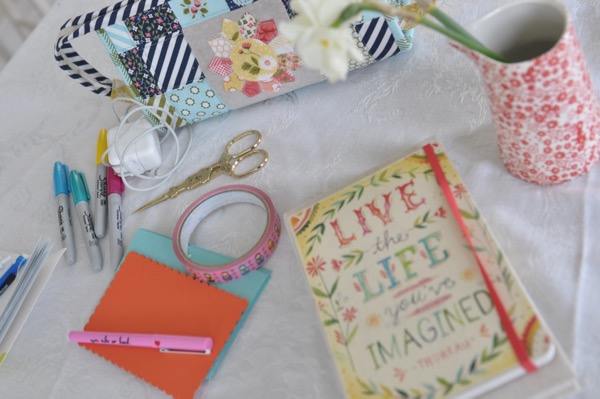 As a portable office. It seems like little people are constantly borrowing pens, pencils, scissors, phone chargers & all sorts of other things I spend a lot of time looking for. I currently keep these items in drawers in my desk but I rarely work there. It would be amazing to keep this little pouch stocked with what I need and be able to carry it around with me wherever I'm working whether inside or out! With the sun shining, it would be great to be able to take what I need to the park and have it just ready to go.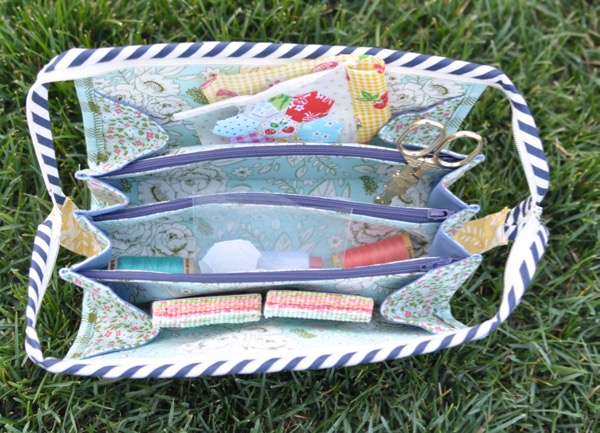 A little, mobile workstation. We have a few trips coming up this year and I'd love to be able to have one portable and organized workstation. With three small zipper pockets & the open space between them this bag holds all of the necessary supplies for small projects without getting them all mixed up. It will be amazing to use this and not have thread getting all wrapped around who knows what and even keeping different sized scraps apart from each other.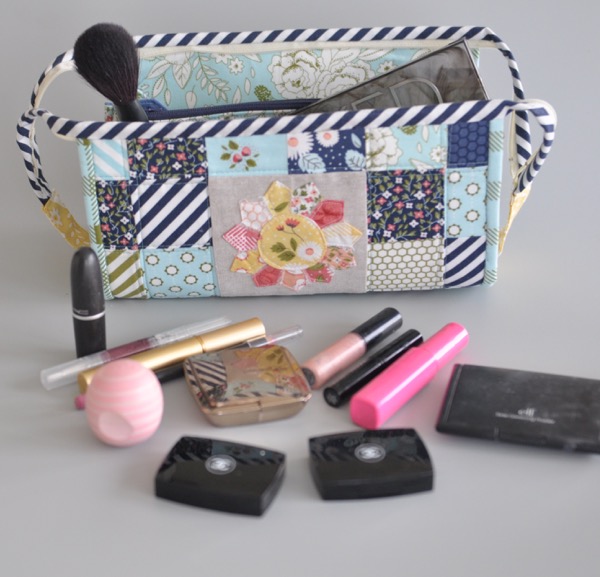 On my bathroom counter as a makeup pouch. I only wish that I had lined it with a bit of vinyl for easy clean up! (Do you remember my tip about how to upcycle vinyl from here?)  This sweet little sunshine should be somewhere I will see it every day. I would love to keep my lip pencils, lipsticks, eye shadows & face products all separate and never again dig around for what I'm looking for in my current pouch!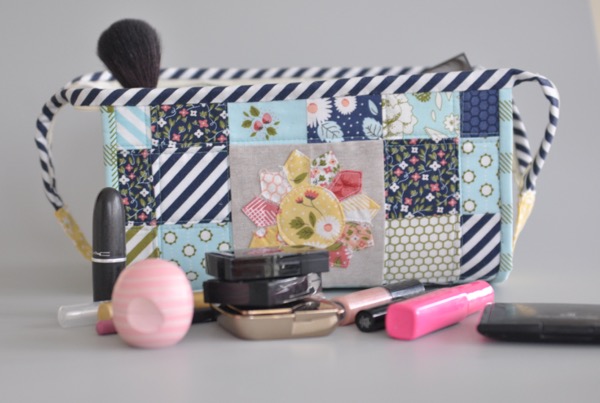 So there you have it! I think the solution is that I need to make a few more of these little bags!
I did make a few changes to the pattern:
1: I switched out the interfacing for the exterior to peltex. I like stiff bags and this definitely gives it a stiffer feel. I also used shape-flex to interface the interior pockets. Again, this was a personal choice because I want my bag to keep its shape.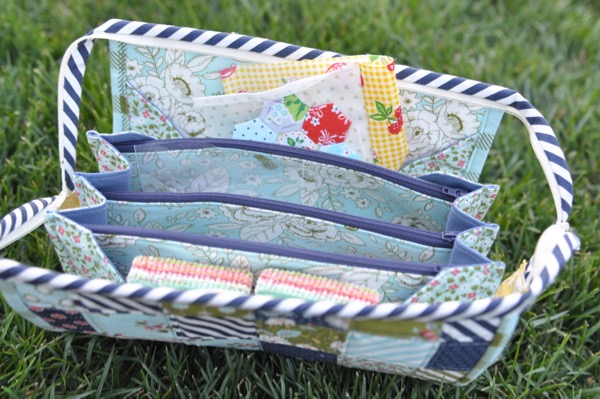 2: The exterior is pieced, and I love it! I used 2″ squares and my little 3-1/4″ dresden pattern I recently shared here. The dresden blades are actually raw edge appliqued to the linen. Since I'm not planning on washing this bag, it should be ok.
3: I hand stitched down the binding. This makes a HUGE difference in the appearance of the finished good. I machine bound my first two and i'm still embarrassed about how they looked. This one I am terribly proud of.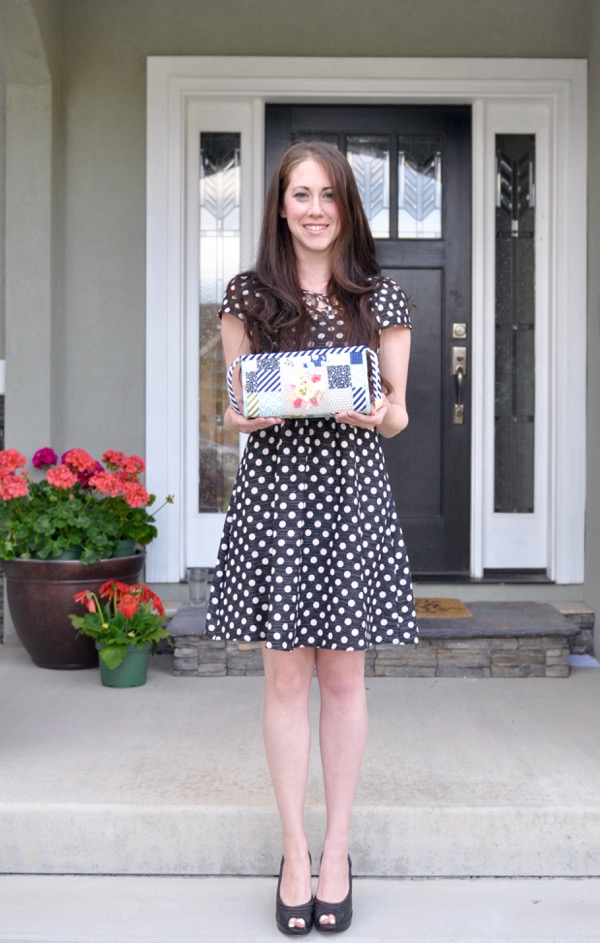 I have a few ideas of tweaks I would make to the pattern in the future. These would be customized to how I'd use future bags:
make interior pockets of clear vinyl so I can see what's inside at a glance
add zipper pulls to interior & exterior pockets
add a little pocket on the outside to slip things in on the go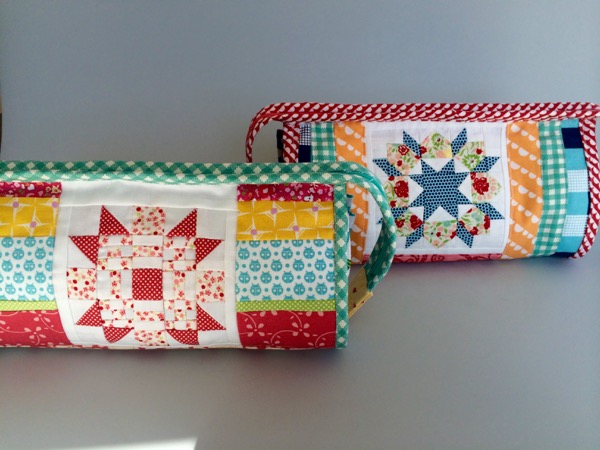 And here are the previous two sew together bags I've gifted. Would anyone want to be a part of a sew together bag swap? I think that would be such a fun gift to make & receive! Let me know in the comments if you've made one and what you thought of the pattern!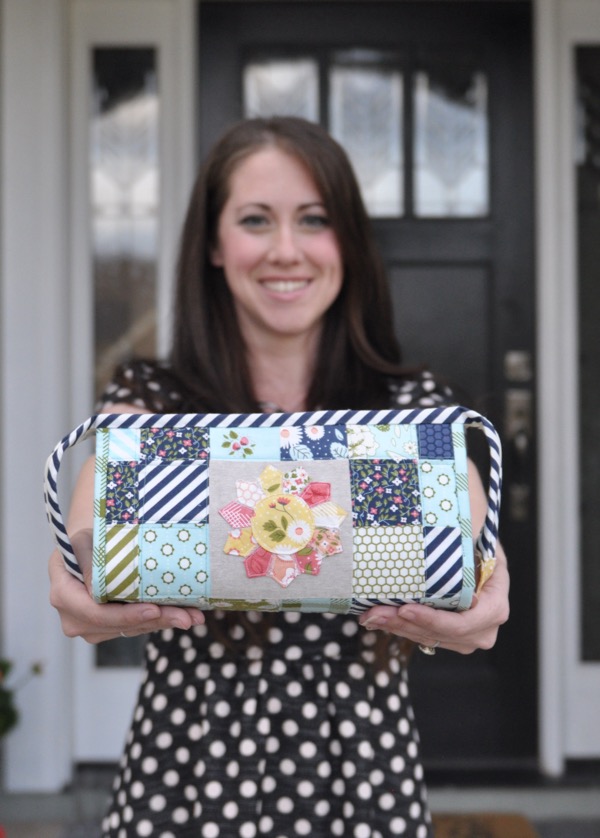 And if you are looking for bag ideas, here are a few more that I've made & truly loved!
Black & White Weekender Bag
Bright & Happy Weekender Bag
Patchwork Weekender Bag < — lots of great bag making tips here!
Linen Purse
You can find the Sew Together Bag Pattern
here.
(Dress is old, similar polka dot dress here if you are interested (and another one here for under $40)
Links are affiliate meaning if you purchase something through them, I make a small commission. Thank you very much for reading and supporting my little blog!