Do you ever feel like you have lost your voice? I have felt that way a bit lately. Every time I come to this space to put words to the page, I can't get out what is inside. So I am going to type up a google doc over the course of this week with all of the rest of the snowflakes. I don't work well on a deadline. Or perhaps I do. I made this little pillow for the Pillow Talk Swap just in the nick of time.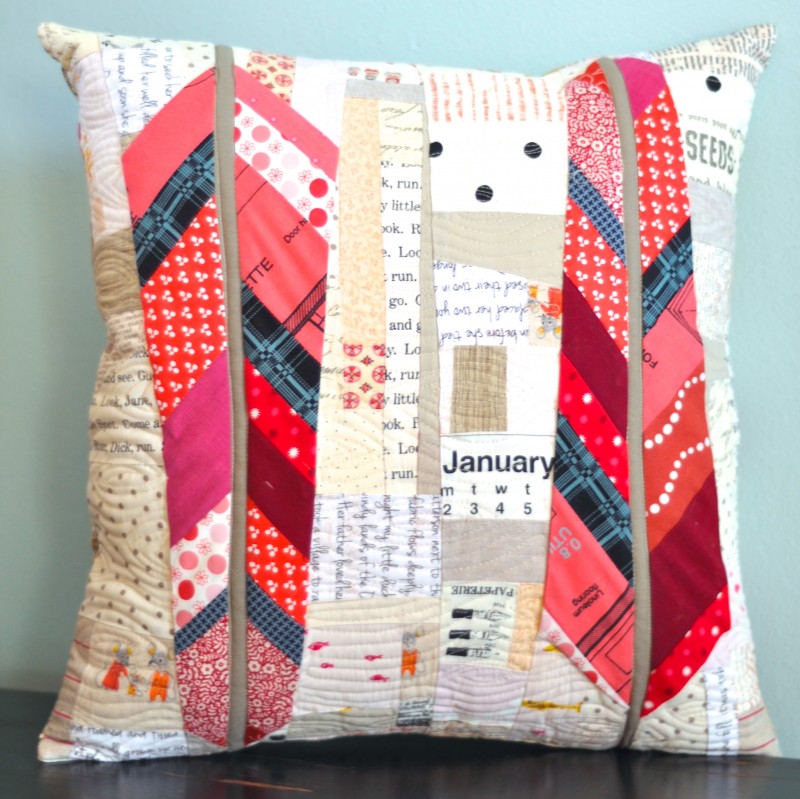 Luckily for me, there is a lot to say about this pillow. It was outside of my comfort zone. For one thing, it is a heavily modified version of a beloved Anna Maria Horner pattern. (I purchased acrylic templates here that made it SO much easier!) Sending something like this off made me really bite my fingernails. Leila has received it, so now I can share my thoughts and process, since each piece of this pillow is based on something about her or that she requested.
She asked for 'French General' colors: rosy pinks, brick reds, and creams and taupes. But she wanted it 'modern' with lots of text, japanese prints, and 'unfussycut' types of prints (novelty prints with part of the design cut off). This is a real deviation from my normal super saturated, high contrast, fussycutting style. So I wandered over to design seeds to find something inspiring. I took my inspiration from this picture which saturated the traditional tones.
I pulled fabrics from my stash that I knew would correlate to something in her life. January of last year her sweet little boy was born, so I put that in the pillow. She also used to work at a paper mill and I know she has a penchant to hand write sweet notes to her friends, so I included the 'paperie' and fountain pens.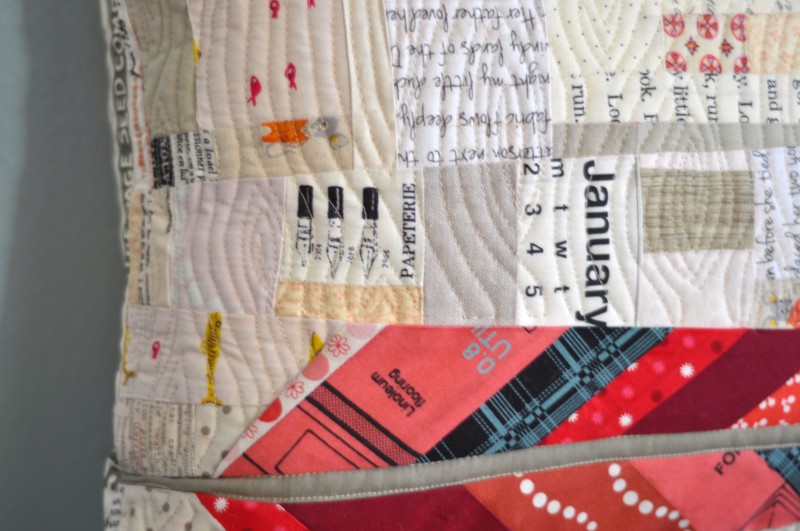 There is also a little mouse family with a little boy mouse that I had to include. You can tell that family is very important to her (and I think most of us, too 🙂 ). She also has a love of polka dots and linen, so those are featured heavily throughout. There are a lot of tiny pieces in this.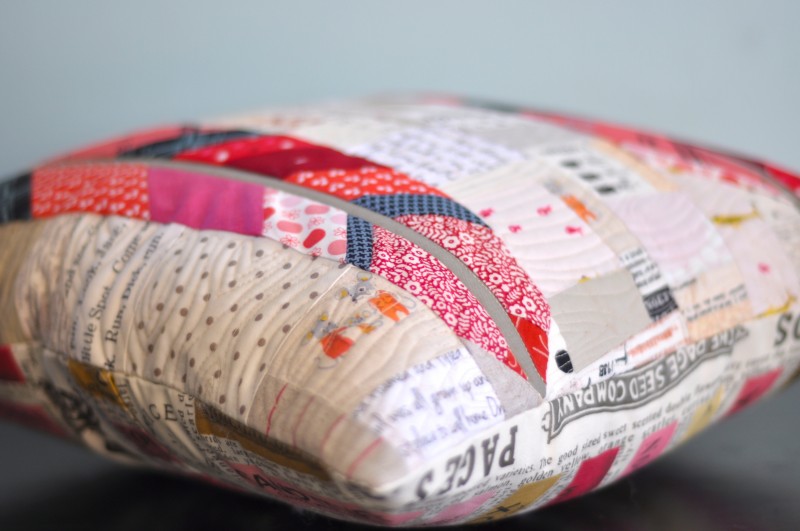 She raises three hens, so of course those family members can't be left out. And she studied architecture, so this japanese print featuring floorplans fit right in. A little Liberty also made an appearance, along with Denyse Schmidt. I knew from some past swaps that Leila had a fondness for vintage reproductions. And for Lakehouse Metallic seed catalog. More on that below.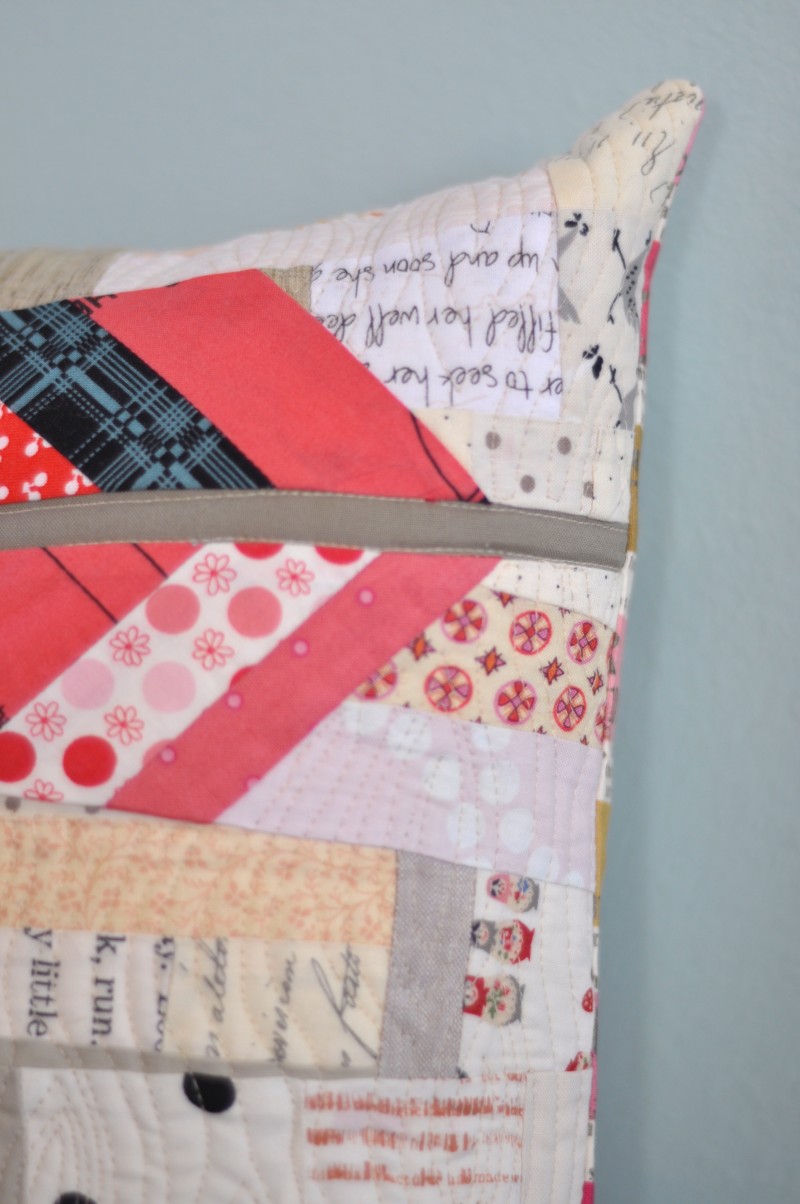 When I first swapped with Leila for fabric, she included a little bit of the now sadly out of print Lakehouse seed packet fabric featuring pinks and golds and shimmering metallic ink. This was quite a bit before metallic fabric really caught on. So, when she mentioned in her mosaic that she still had a fondness for the stuff, I went on the hunt. I found one last online shop with a bit to sell and bought a bit. So the back of the pillow is one solid piece of fabric.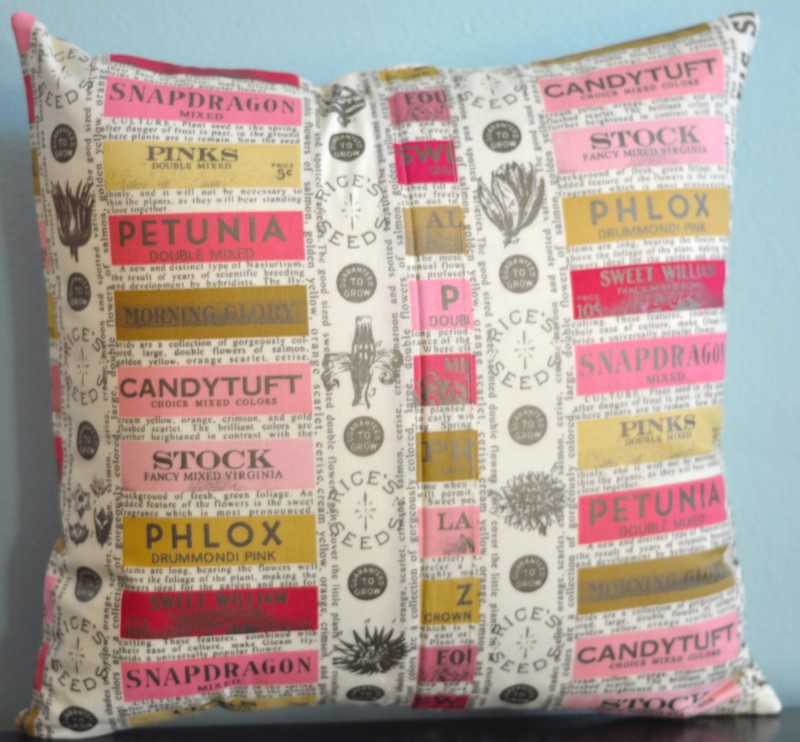 For my final trick, I hid a zipper under that flap. I LOVE zippers in pillows. They keep a feather pillow form in shape since there isn't any wiggle room.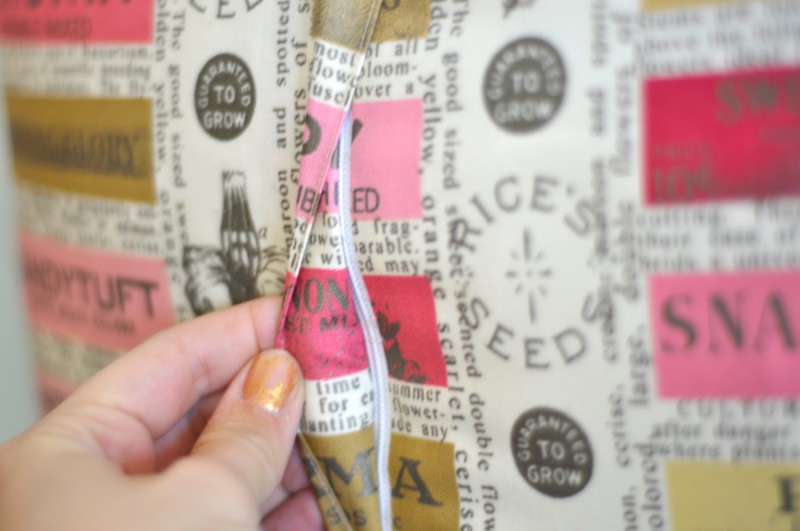 So, now it is time for the Sew Mama Sew Giveaway Day. I LOVE this day. I could spend all day perusing fun, new, inspiration filled blogs. If you are stopping by from SMS, 'Hi!' and 'Thank you!' I'd love if you had time to poke around, but I know the clock is ticking.
My giveaway today is a fat eighth bundle from my shop. Fat Eighth bundles are my absolute favorite cut. Ours our cut generously enough that you could get a couple layer cakes, bunches of charms, or 2.5″ strips from them. I used them to make my fun alphabet quilt, my madrona road quilt, and they are THE BEST cut if you want a variety of new prints, but don't want so much that you are intimidated to cut into it. I'm already trying to decide what to do with the brand new architextures bundle that I added to my shop yesterday 🙂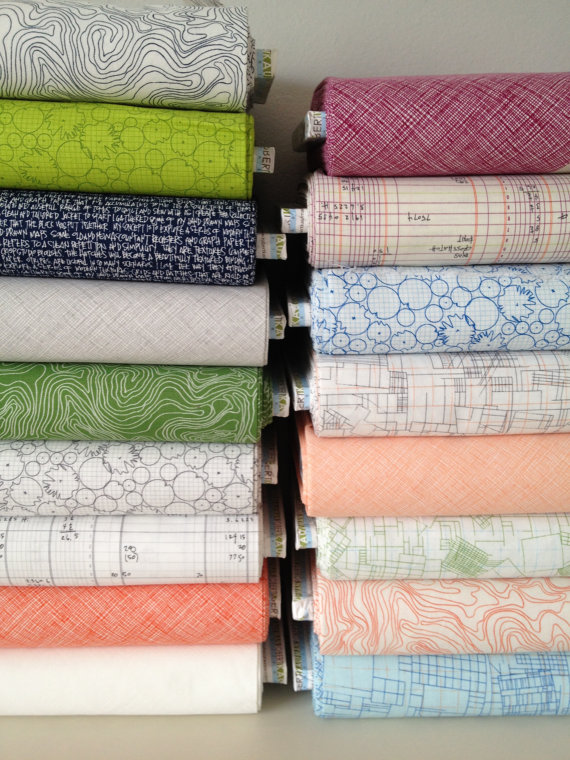 If you'd like to enter, all you need to do is stop by my shop and let me know which Fat Eighth bundle you would like to take home with you. The lucky winner will win whichever bundle they chose. Easy, Peasy! There is just one method of entering this time.
If you haven't already stopped by, my amazingly talented friend Jessica is launching her brand-new-sure-to-be-awesome blog by giving away a $40 gift certificate to my shop. I almost entered it myself it was so tempting. Definitely stop by and say hi to her! And check out her finished quilt page. There is some serious eye candy there.
You'll also find a Fat Quarter Bundle of our new Bella Solids up for grabs over at Lindsay's blog. These girls were so thoughtful to choose my shop, so I'd love if you'd pop by and let them know I sent you.
If you like what you see here, I'd love to keep in touch in whichever method you choose, be it facebook, pinterest, twitter, instagram, email. Thank you so much for stopping by!