I am home from Quilt Market and I am just bursting to tell you all that I saw and learned! It was a really fun market and there was inspiration and eye candy around every booth wall. There was also TONS of swag. So much that I had to take home an extra bag! So, every day this week I will have a new post full of market pictures, recaps and a fun swag bag giveaway.
So let's start with the pictures! Walking around, I noticed a lot of these bold, graphic quilts. Here are just a few, but you can get kind of the feel. The cool thing about the striped hexagons is that it is really a cheater print (Michael Miller). It is pretty awesome!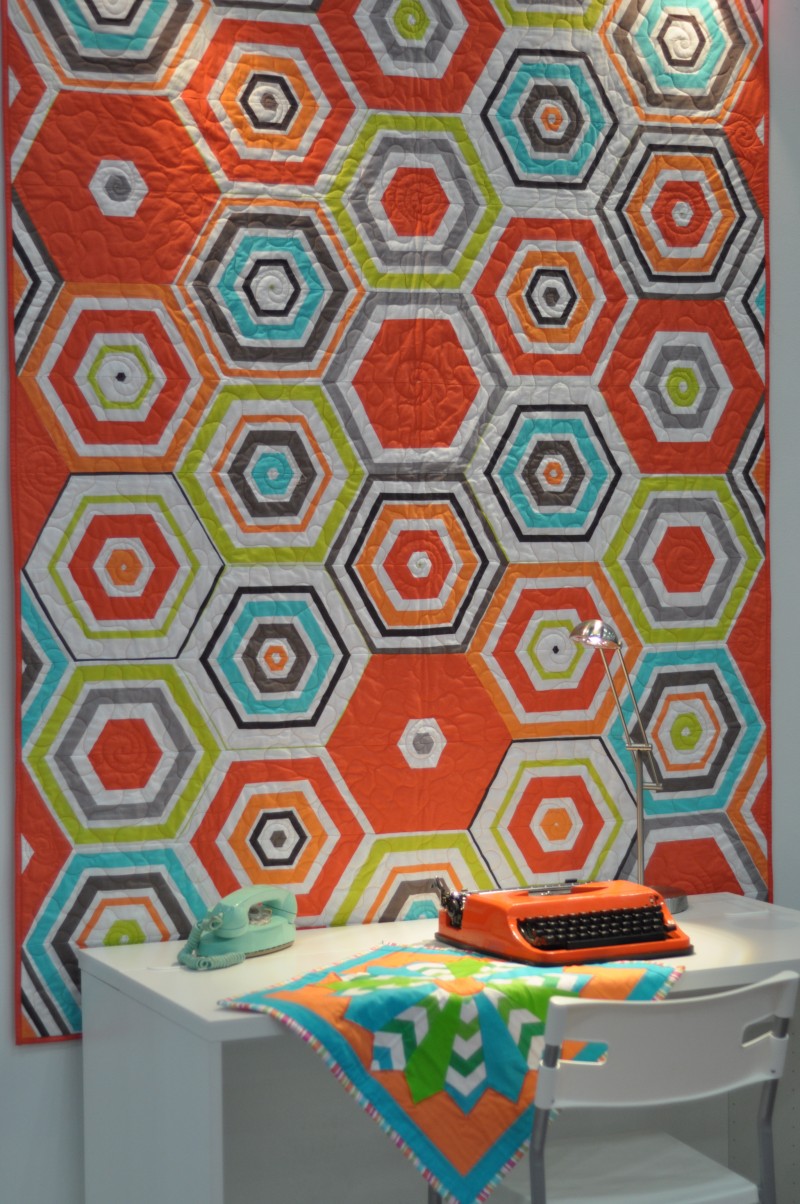 These circles are from the Timeless Treasures Booth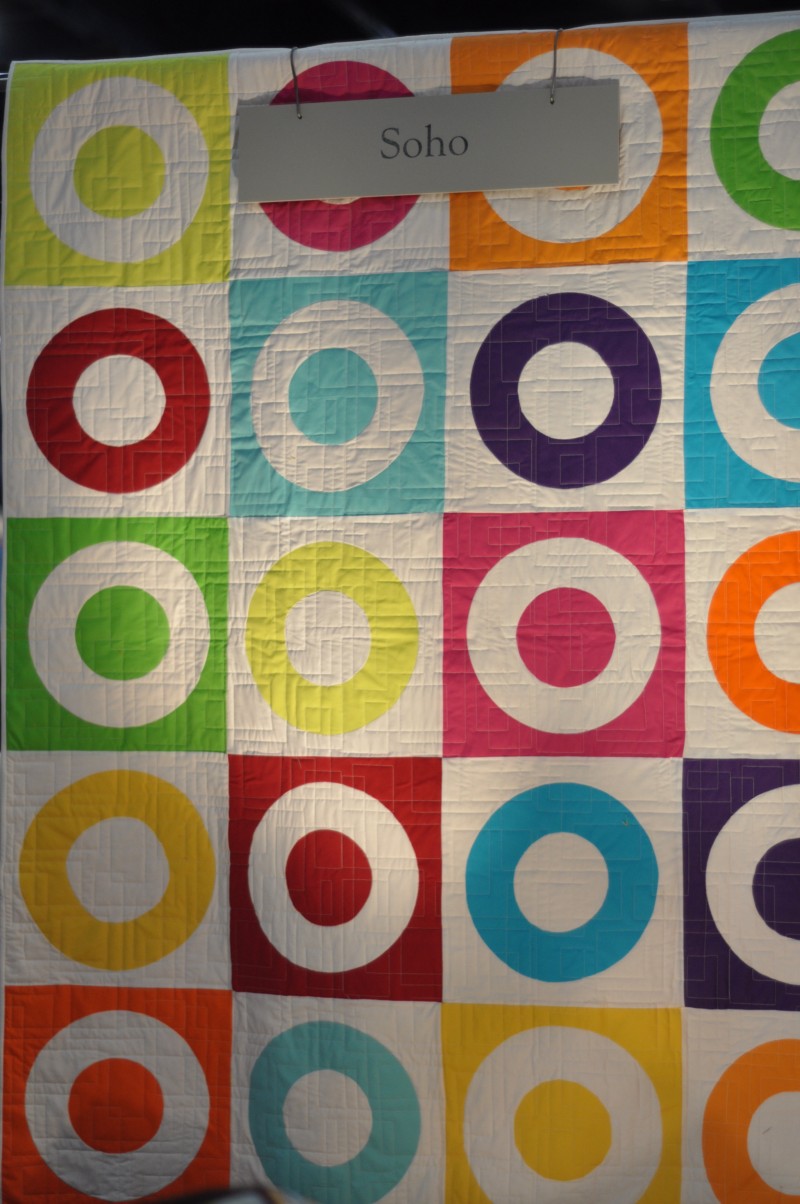 And then these cool broken wedges (made by my friend Marci!) in the EZ Dresden booth.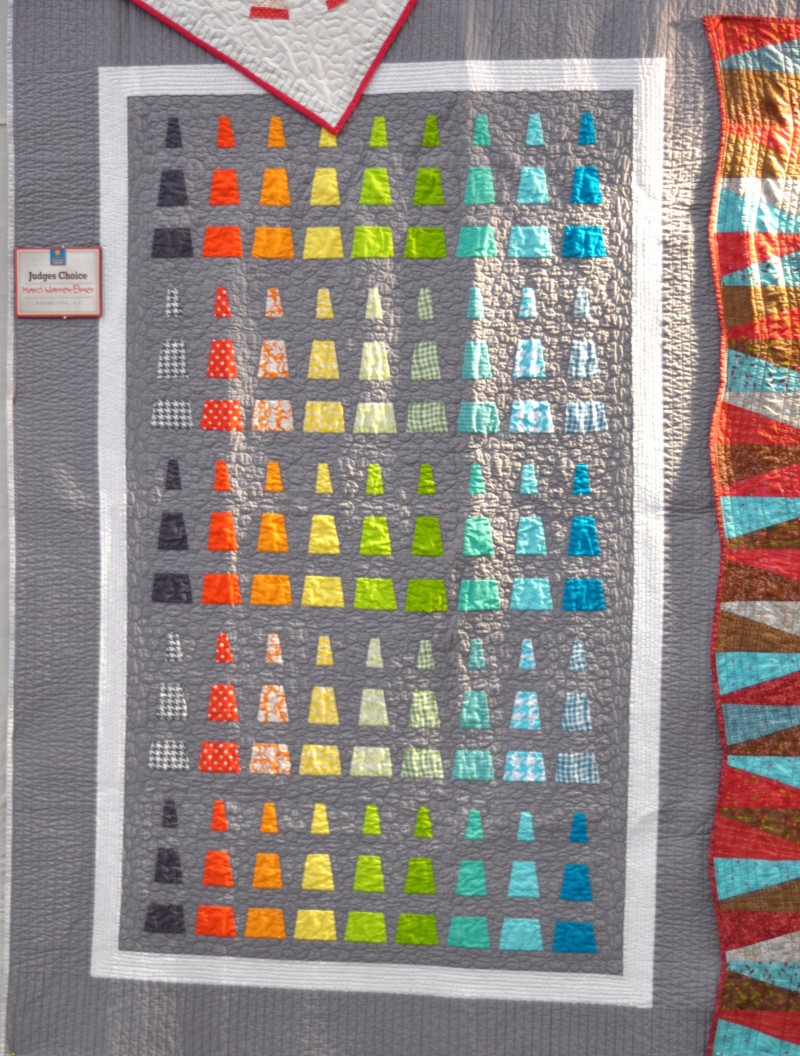 And then there was Tula Pink. Her Saltwater collection is stunning. And of course, her booth is spectacular.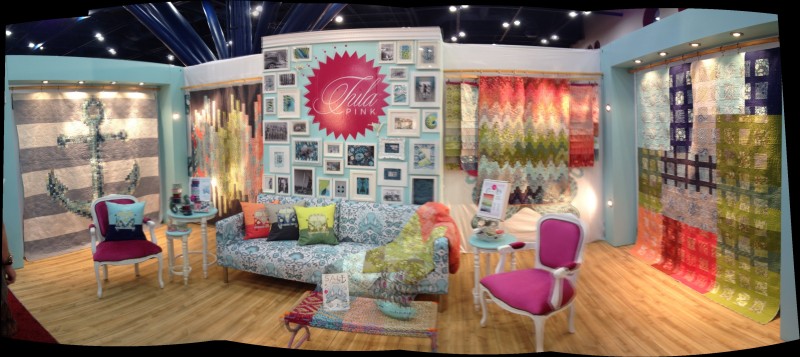 I was able to squeeze into her schoolhouse on Friday and heard her talk about this new line (coming in January!).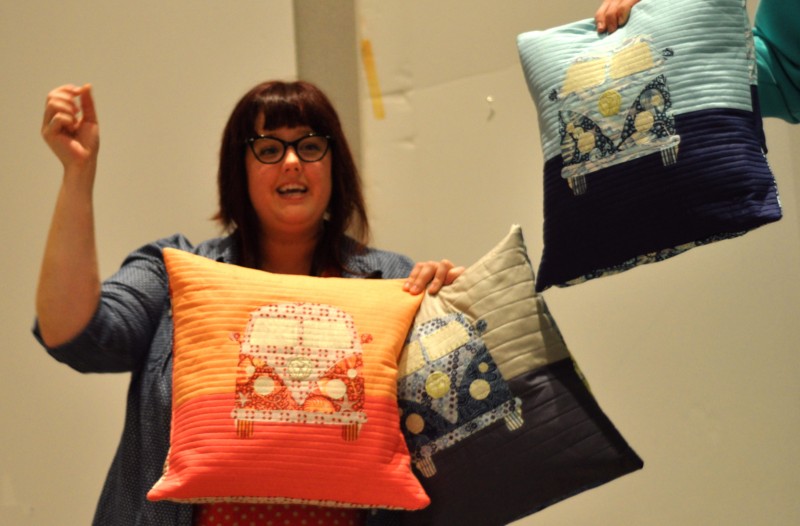 Saltwater is Tula Pink's way of reprinting the well loved, long out of print and extremely hard to find Neptune. The colors in Saltwater match Neptune exactly. It's like a late Christmas gift that is worth the wait!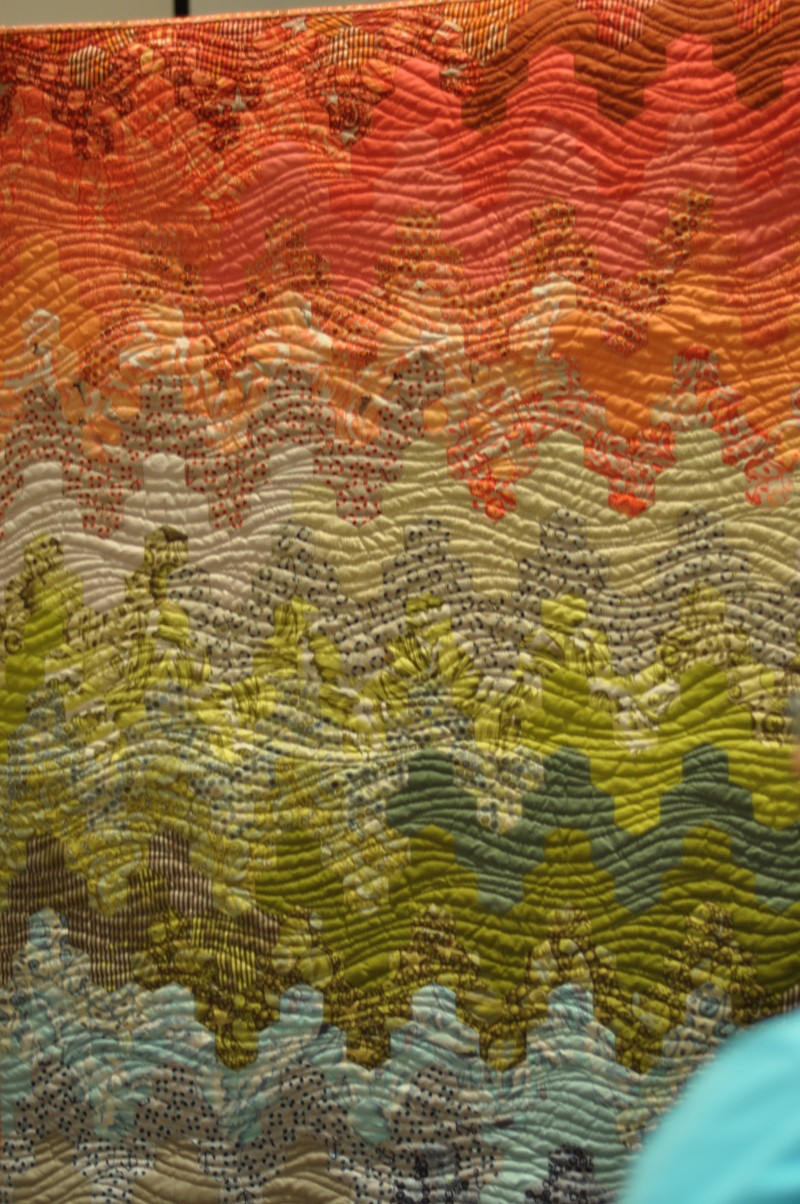 She has created some fantastic new patterns to go along with this collection such as this one that she calls 'hex on the beach'. It is going to be kitted from Free Spirit, complete with more than a thousand laser cut hexagons. It is amazing!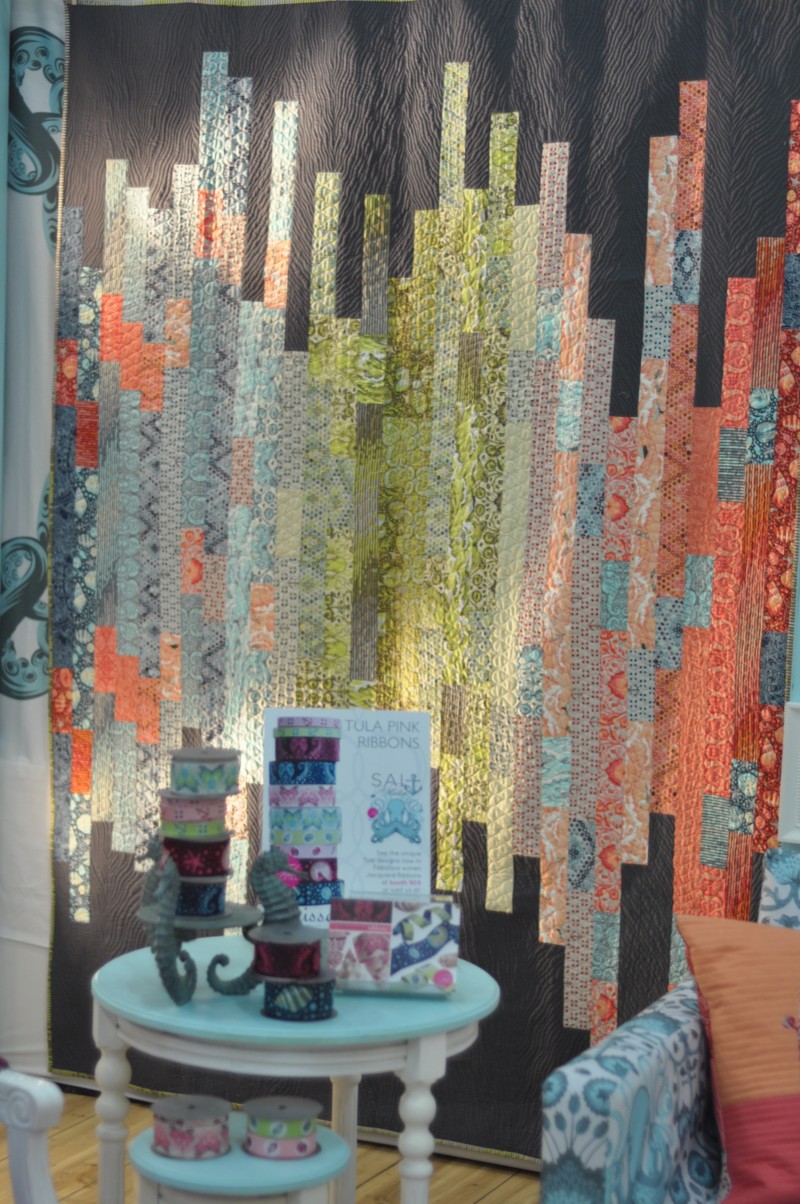 Some other highlights are this cool, quick strippy quilt (above) and this amazing pixelated anchor (below). Check out the fab quilting done by none other than Angela Walters. That girl has some crazy good skills.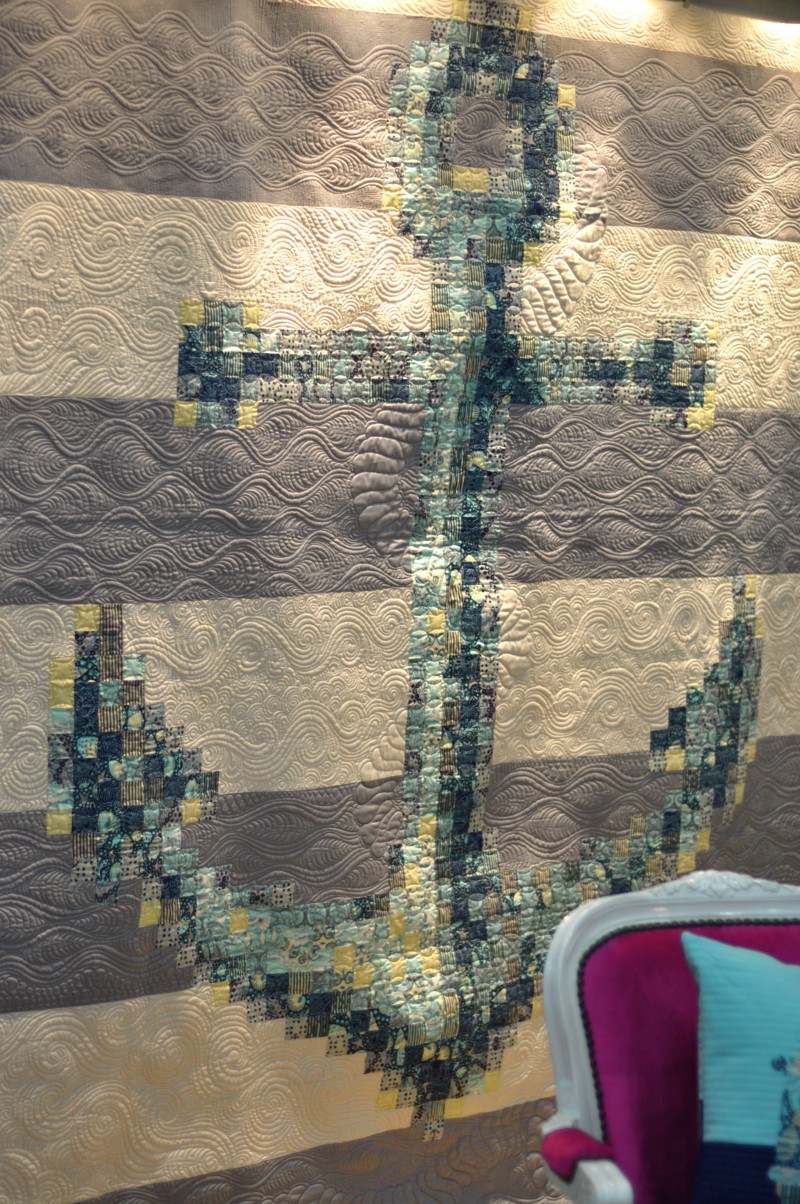 I got to hear Angela speak during Schoolhouse and she is just as clever as she is talented.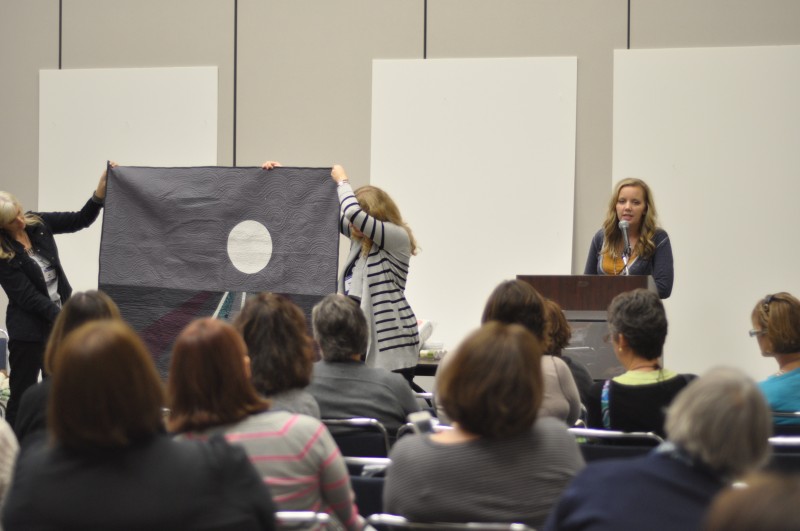 Her first book on Free Motion Quilting is the best purchase I have made for myself this year. I can't wait to get my hands on her new one that arrives in a couple of weeks. Getting to see her quilts in person was inspiring. In fact, it makes me want to wrap up this blog post and get stitching!
So, do you want to hear about today's giveaway?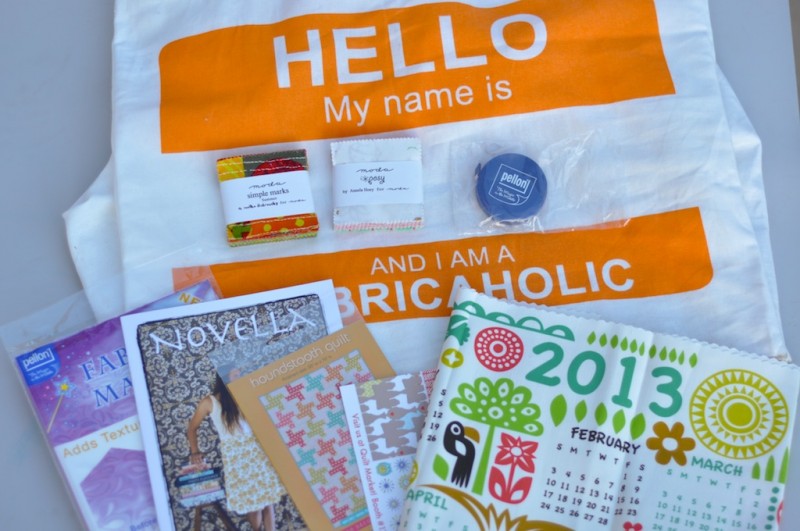 Each day I'll be giving away a bigger and better swag bag from Market with cute little market treats tucked inside. Today, You'll get to win my Moda 'Hello, I'm a Fabricaholic' tote bag from Sample Spree, along with a couple of mini charms from Aneela Hoey and Malka Dubrawsky's upcoming Posy and Simple Marks lines. There are a cool Pellon tape measure and their amazing Fabric Magic interfacing. You'll also receive a ModKid quilt pattern, a Spoonflower 2013 calendar panel (that I kind of want to keep! it's so cute!) and a few little pamphlets on upcoming lines from MonaLuna and Valori Wells.
To enter, just leave me a little comment telling me how old you were when you started sewing.
There is a bonus entry for following me on Facebook, just leave me a second comment 🙂
Come back tomorrow for even more quilt market pictures and another chance to win some cute market goodies!
PS: I put a few of our Sample Spree goodies in the shop. If you are looking for lines like Noteworthy, Posy, Lizzie House's Constellation or so many more, we have them all in stock in very limited quantities!