Being voted into the top 16 on Sewvivor was so exciting.  Under pressure, I chose to make something classic and simple. I boiled it down to just exactly what Nautical means to me.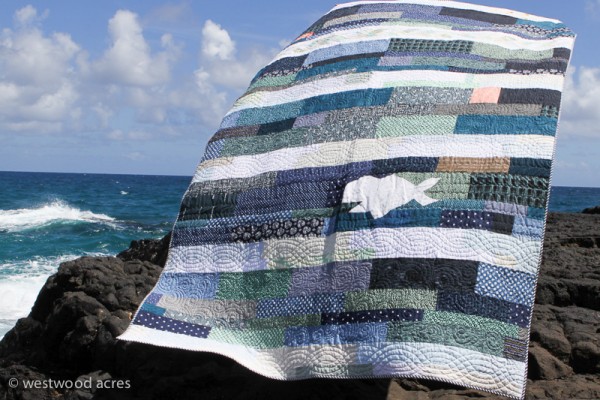 Bold stripes, navy blue and aqua, glittering water, and braided rope all mean summer on the water to me. Toss in a friendly beluga whale and you've got me sold. So that is exactly what I made. I bound this with my favorite navy blue stripe from the April Showers collection. These stripes are just the icing on the cake.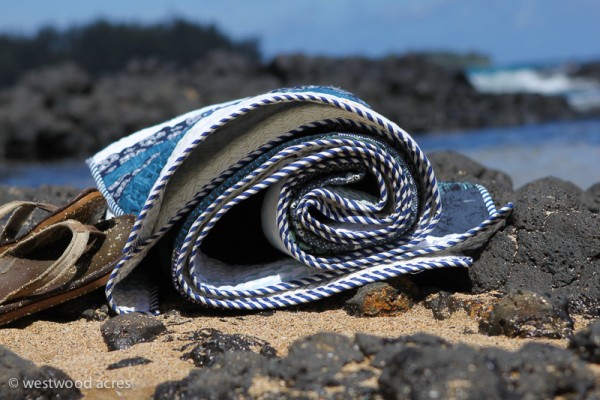 I was able to use a friend's long arm since this quilt finishes at about 75″ x 90″. It was my first time using a pantograph, but I'm pleased with the result. I traced a cord in the low volume section and free handed spiral waves in the navy sections. I love the contrast.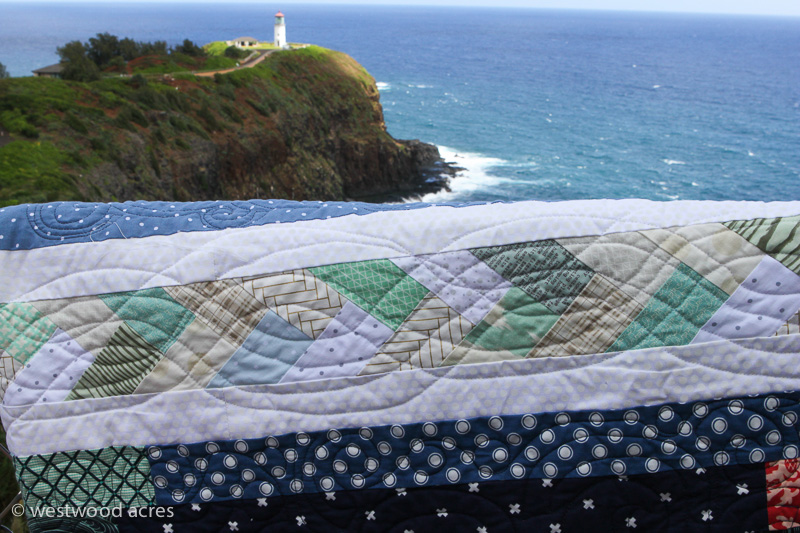 I loved pulling this collection of fabric together (and broke out some of the 'good stuff' if you know what I mean). It can easily double as a nautical 'I Spy' quilt. Turtles, submarines, mermaids, crabs, and seahorses are just the start. I can't wait to turn this over to my little ones to play with and discover. If you are interested in making a similar quilt, gather up your favorite dark navys and low volumes that tend towards white, aqua or a sandy cream.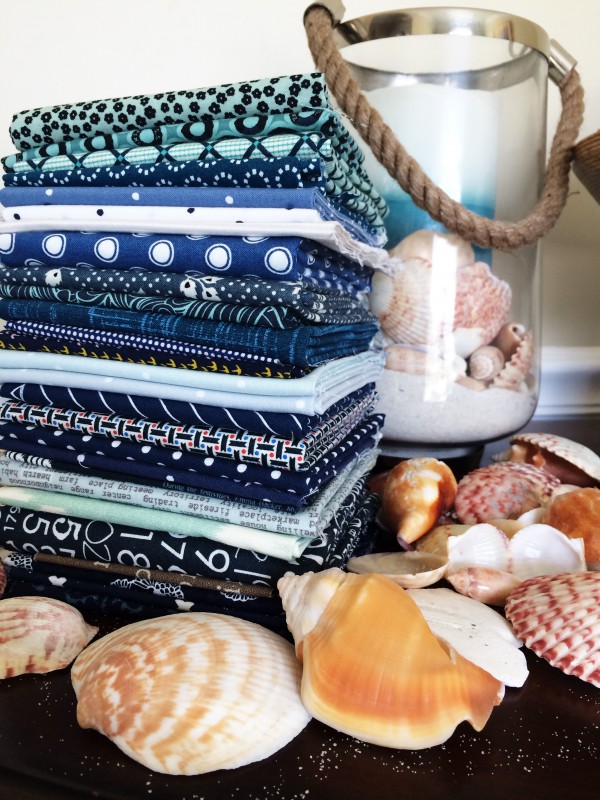 The Tutorial: Cut about 15 fat quarters worth of dark blues into 5.5″, 3.75″ and 2.5″ strips. They can be any length you want as long as the widths are consistent. You will want numerically more of the smaller cuts, but about similar weight in each pile. That makes this an AMAZING scrap busting quilt (and it will go together pretty quick!). You'll need at least 10 fat quarters of 'low volume' (tending towards white) prints. For the braid, cut 3.5″ strips from your fat quarters or scraps. Subcut these into 2″ pieces. You'll use this technique to form the braid. Your braid for this quilt will need to be about 75″ wide. Press the braid, trim it carefully into a smooth strip, and set aside. From the low volume prints, only cut the 3.75″ and 2.5″ strips ***and 150″ of 2″ strips from 1 print or solid white. Sew these together until you have 2 pieces that are 2″ x 75″ and set aside***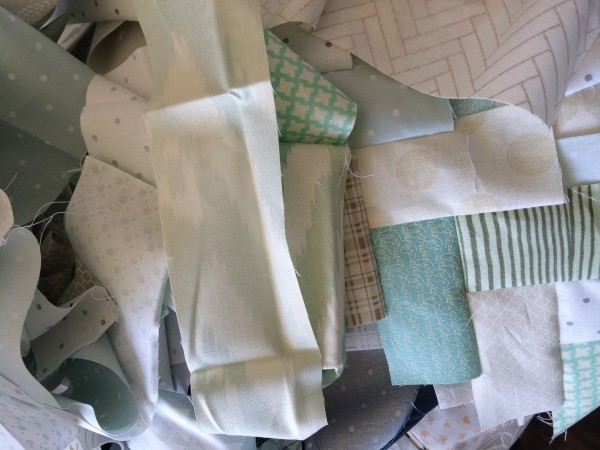 Sew all of the same-width navy strips together. Then, sew all of the same-width low volume strips together. Press seams so that strips lay flat. Cut each continuous strip into 75″ widths. When I was done with this step, I layed my quilt out and it looked like this.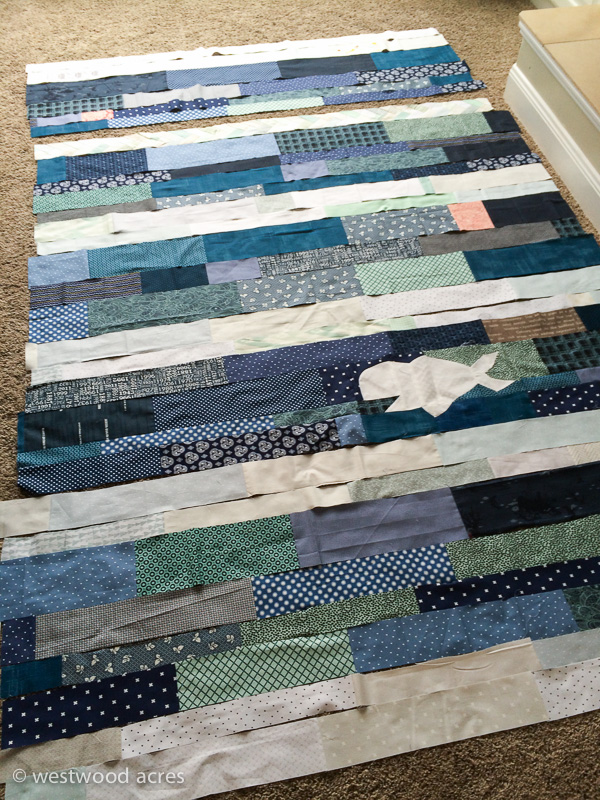 You might notice the braid hasn't been framed by the 2″ x 75″ pieces in the picture. I would do that first. Begin sewing your rows together in pairs, always from the same side. Then, sew the paired rows together starting your stitching always from the opposite side. Press and trim the edges even and you're done with your top! The whale isn't quite ready for prime time, but you could substitute anything you wanted if you want a focus right there 🙂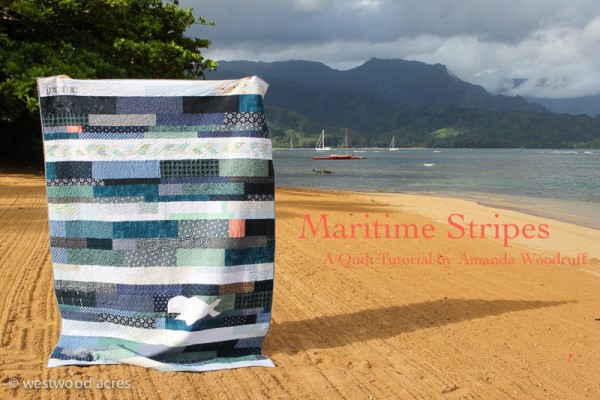 It is a simple quilt, but definitely a statement piece. I'm incredibly happy with it, but I'll be even more happy with it if I find myself in the next round of the competition. So pretty please hop over and vote for me here? They are sending half of the competitors home and I really *REALLY* want a chance to throw my hat in the ring for the handmade bag. I have plans, friends! As always, thank you for reading along! Your comments and support mean the world to me! If you are new here, I'd love to have you subscribe at the link at the top right.