Welcome to week two of my star flower quilt along! I am loving this quilt just as much the second time around and I am so excited that so many of you are interested in stitching along with me!
This week, we are going to cut our pretty fabrics. This is one of my favorite parts of quilting. You will need a clear ruler at least 5.5″ wide by 24″ long. It would help if you had a Fons and Porter hexagon ruler, but if you don't, I'll have a hexagon template available by mid-morning here (ha! we can't find the power cord for the scanner under all of these boxes so my sweet husband will be scanning it from work)
EDIT: Here is the link for the templates.
From your solid fabric, you are going to need to cut 98 hexagons (I apologize for the typo before, this should be 98, not 48). To start, we are going to cut (17) 5.5″ strips from your solid (white) fabric. From each strip, using your hexagon template, you will get 6 hexagons. Start by laying your hexagon on your strip with the points up and down.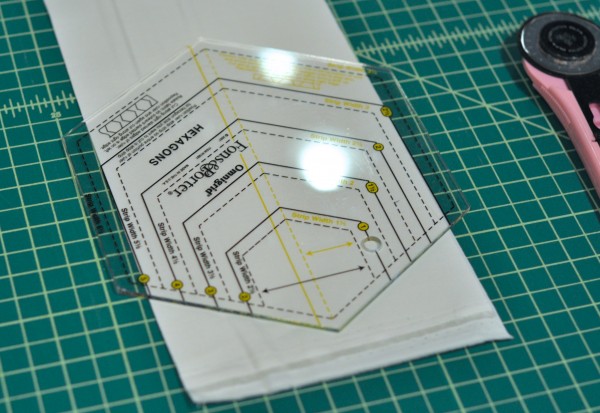 Cut away the bottom excess. Flip the template over so that the bottom points are lined up. Using your rotary cutter, cut the top two edges as carefully as possible (the angles will line up, so going over your mark will not ruin the next cut!)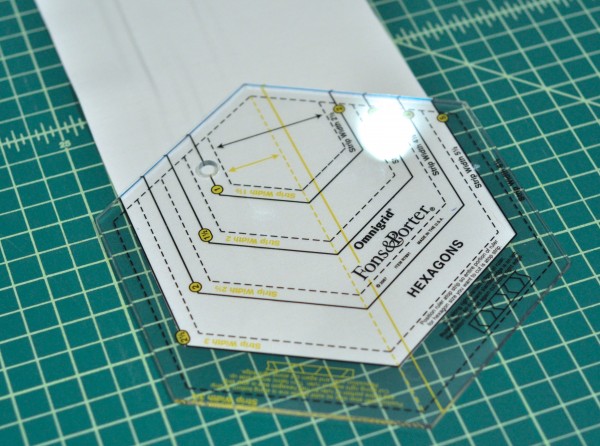 Line up the points of the previous hexagon with the next hexagon like shown. Cut off the bottom triangles.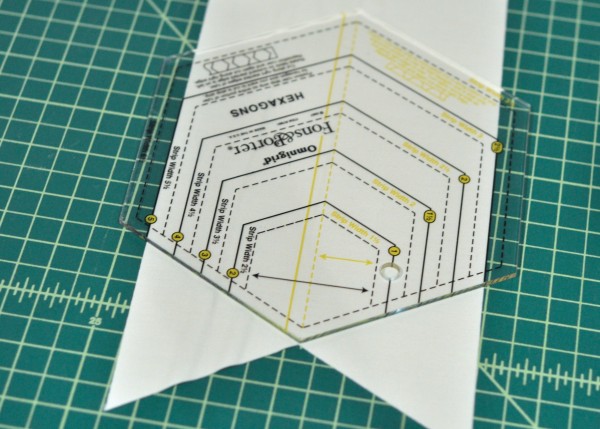 Save those triangles! You'll need a few for the borders and I think a matching triangle pillow from scraps sounds absolutely fabulous!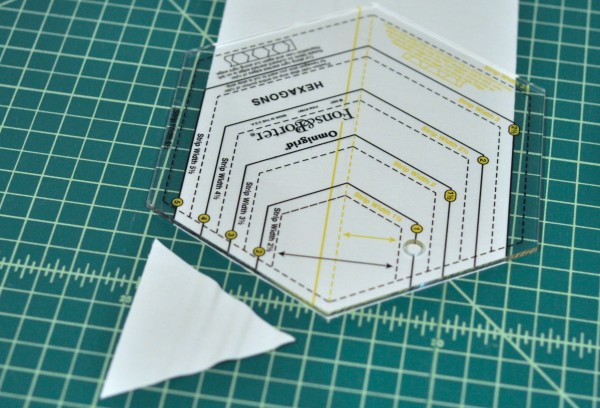 Now, just cut your top edges and then continue to flip and cut hexagons with all of your 5.5″ strips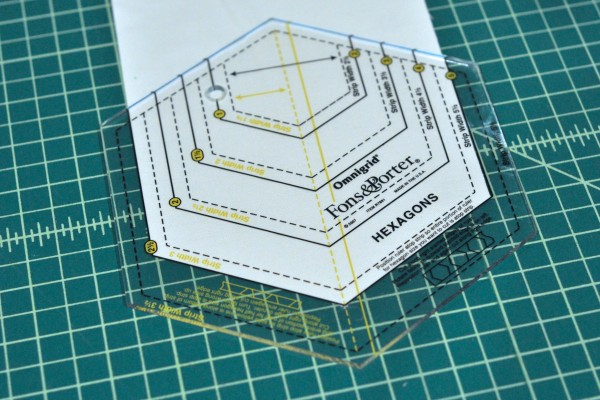 Now, cutting the diamonds. These will be cut from your solids and prints and you will need a minimum of 300 diamonds for this quilt. I recommend cutting extras and even making a few extra starflowers. This way, when you are laying out, you can mix and match and not worry too much about having similar stars 'too close'. Cut 3″ strips from your gorgeous prints. You will need to cut at least 30 strips 3″x WOF OR 60 strips 3″ x 21″ (cutting from fat quarters folded in half is perfectly fine).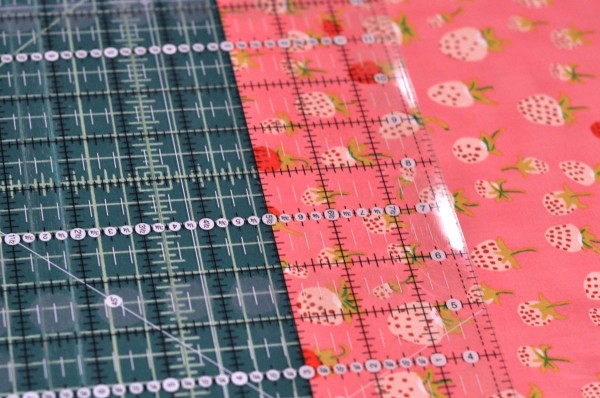 Now that you have cut your strips with the straight of grain, we are going to use your ruler's 30/60 degree to cut the diamonds. If you haven't used it before, look for a line coming from the top corner of your ruler that is marked like this.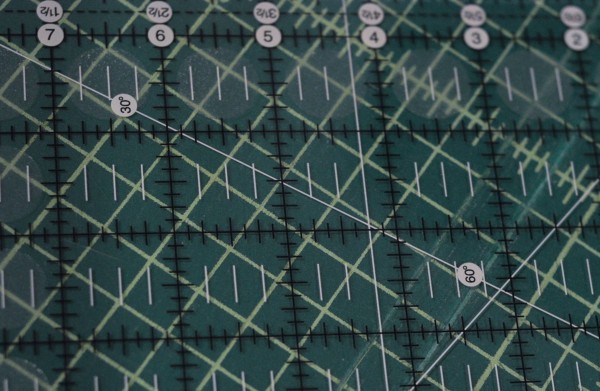 Lay this line across the cut edge of your strip like so and trim off the selvedge edge of the fabric.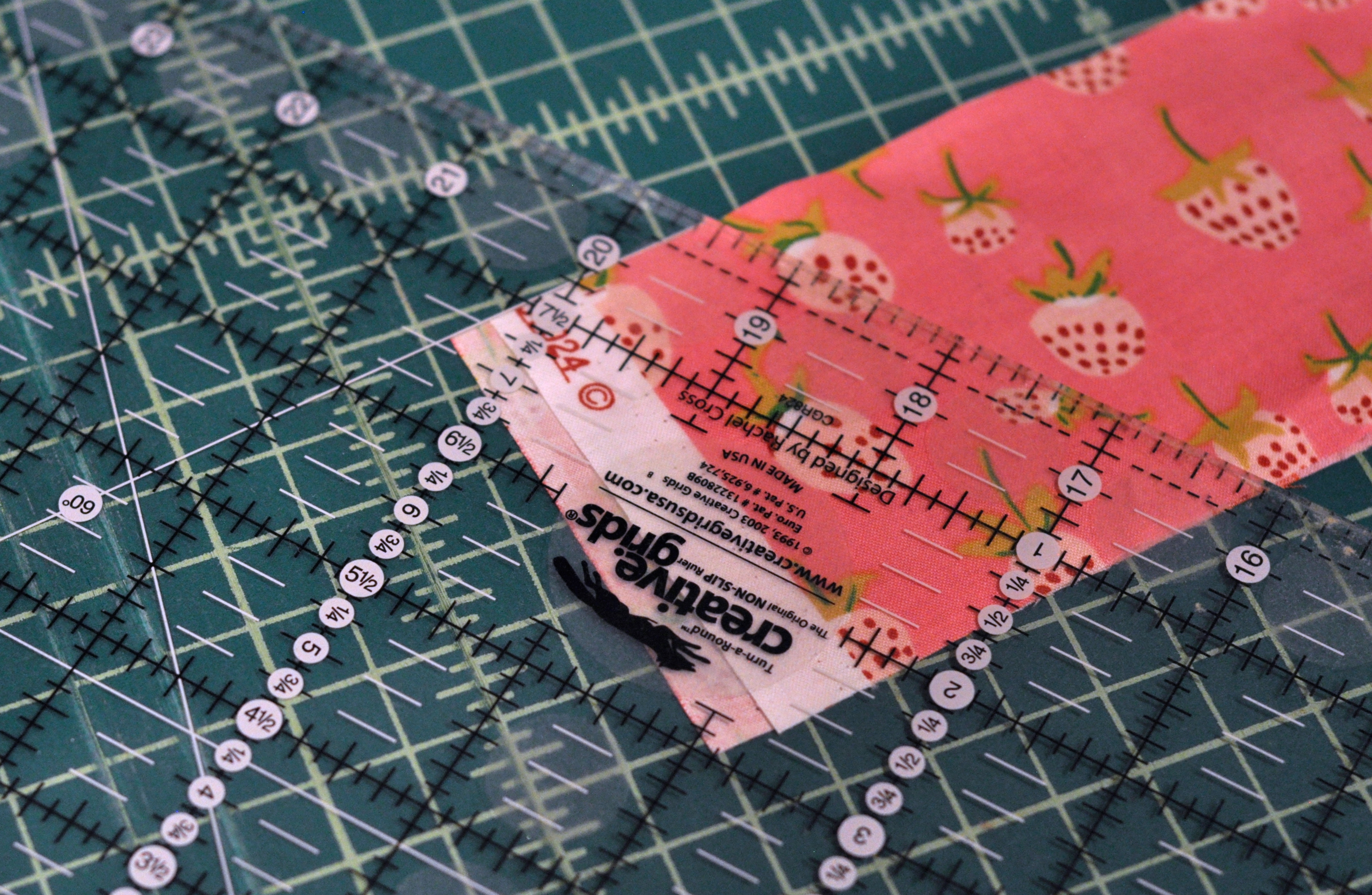 Now, lay the straight measure lines against the angled cut at the 3″ mark and cut your first diamonds.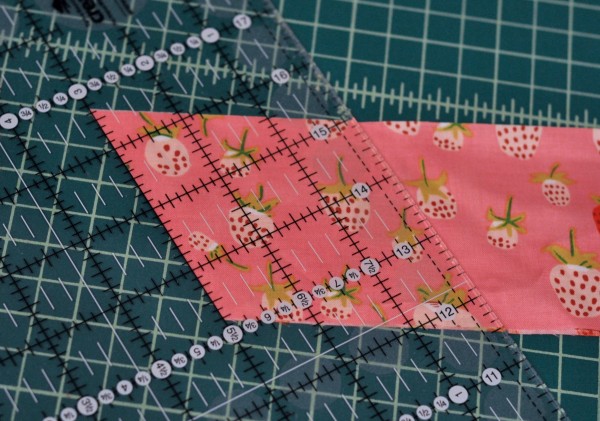 Just keep laying the 3″ line of your ruler against the new edges until you run out of fabric. You should be able to get 5-6 diamonds from each 3″ strip, depending on the actual width of the fabric 🙂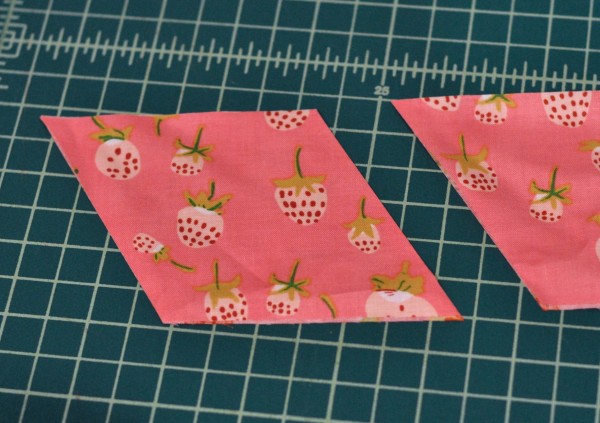 For the borders, you will need to cut from your solid (white) (3) 2.5″ strips, (6) 3″ strips, and then set the remainder of your yardage aside for some cut to measure pieces we'll need on the inner borders 🙂
Thank you so much for following along! Feel free to ask questions and I will try and answer right back!