So, I'm a-little-bit-a-lot nervous to post this. But excited too! My friend Rachel at Family Ever After hosts an annual stitching competition, and this year it is all about quilting! It all starts today with the auditions and 16 people will be chosen to keep going with the competition. Whether I make it or not, I'm totally going to try and stay on top of the challenges. I already started a fun nautical-something for our upcoming trip to kauai, so this is great motivation to finish!
So…..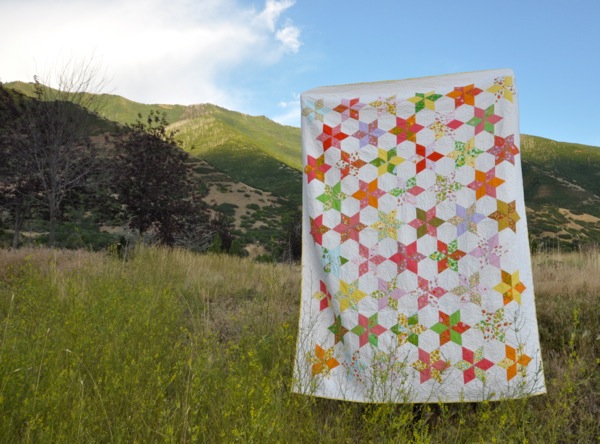 My quilt audition is my starflower quilt. I wrote this pattern last summer to celebrate the return of Heather Ross' adorable prints to quilting cottons! It's still one of my most favorite creations. It's a generous twin size and the points are perfect (so are everyone's who used the tutorials! You can find the method here :))
This quilt is backed with a vintage sheet and I did all of the stitching, piecing and quilting myself. I chose to quilt it with little flowers in the hexagons and free motion straight line top stitching around each diamond shape. The colors and solids make this the perfect summer quilt! In fact, it was made specifically for a lightweight quilt for my little girl's big girl bed.  But today, it's out in nature. I think she likes that even better.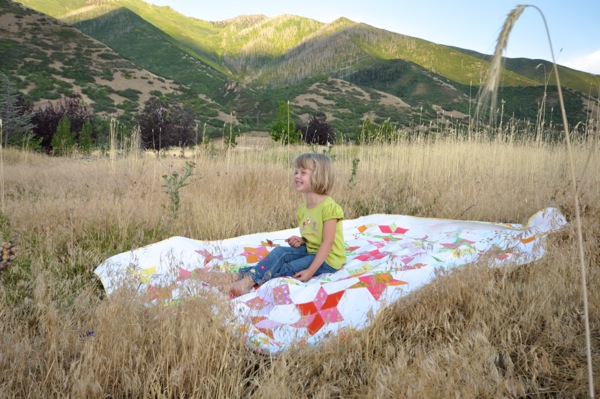 This project is not the most challenging thing I've attempted and I really struggled to pick an audition project. In the end, I think this quilt may be the best representation of both skills and style. Unless you want to count this weekender. (But I show it off too much!) This quilt includes Y- Seams, hexagons, and gives lovely, little prints center stage, which I am a large fan of. I've also discovered the depth and richness you can add to a quilt by using prints with more than one color. You'll be seeing a lot more of those in some upcoming projects.
Here's an in progress shot of the quilting. Check out those points!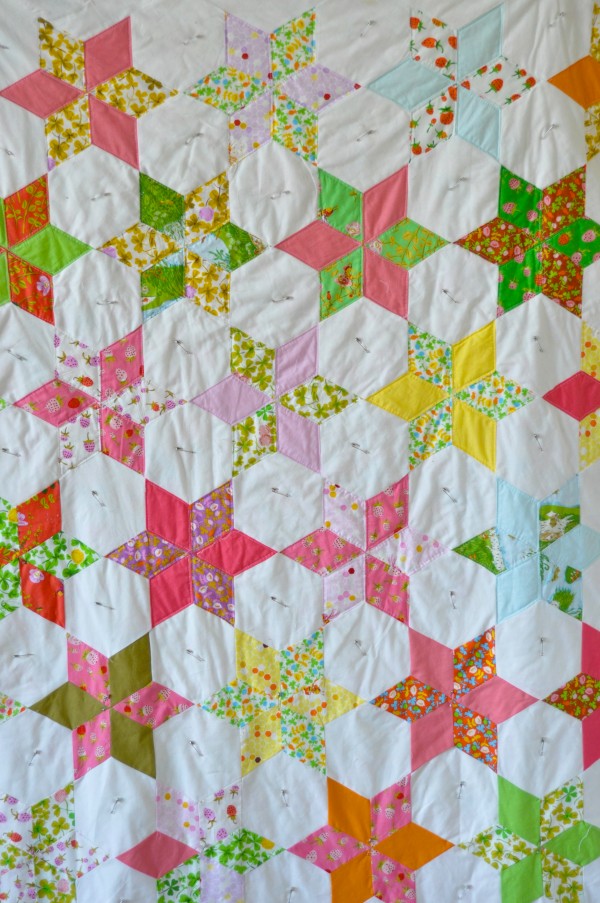 Let's hope that this quilt is as golden as the time of day we photographed it during!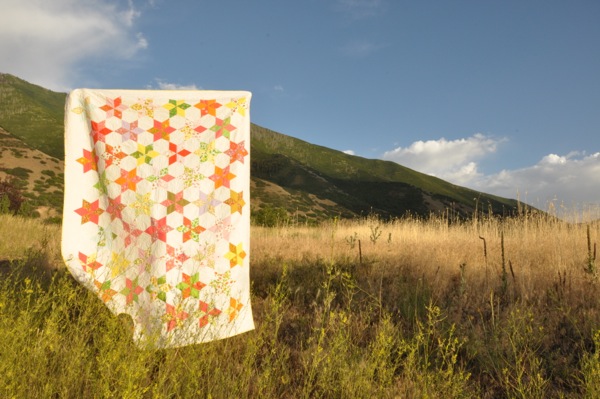 And if you want to enter Sewvivor – do it! Details can be found here. (and you could win bundles from our little shop if you win!)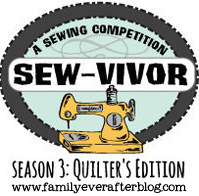 And if you'd like to make a starflower quilt of your own, you can find all of the instructions here on my little blog.
Week One: Kick Off
Week Two: Cutting It Out
Week Three: Sewing the Starflowers
Week Four: Sewing In the Hexagons
Week Five: Sewing The Rows Together
Week Six: Borders and Done!
Thank you for reading along!