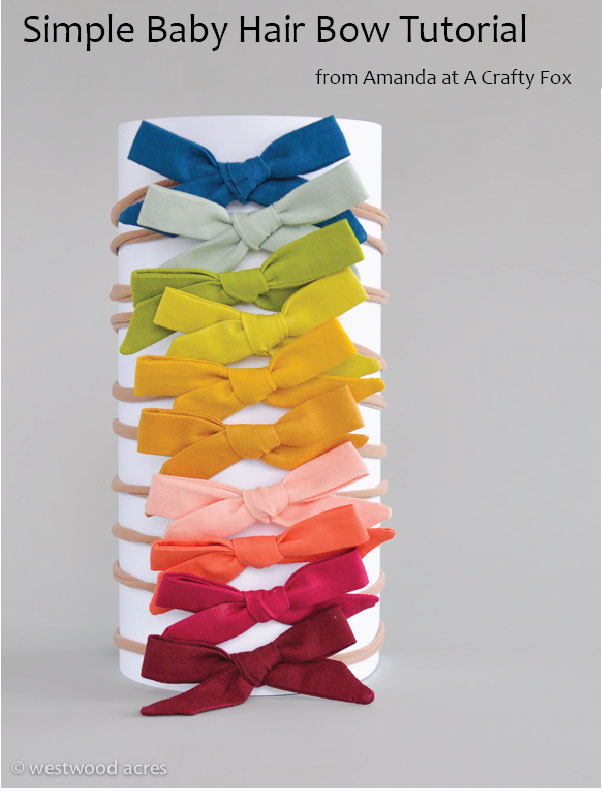 I've been having a BLAST with my little girl. Getting her dressed is fun, but often times I think she is more comfortable in pajamas. But I love seeing cute little bows in her hair. I've found a few shops that sell these, but it seems a little bit silly when I have so many fabric scraps laying around.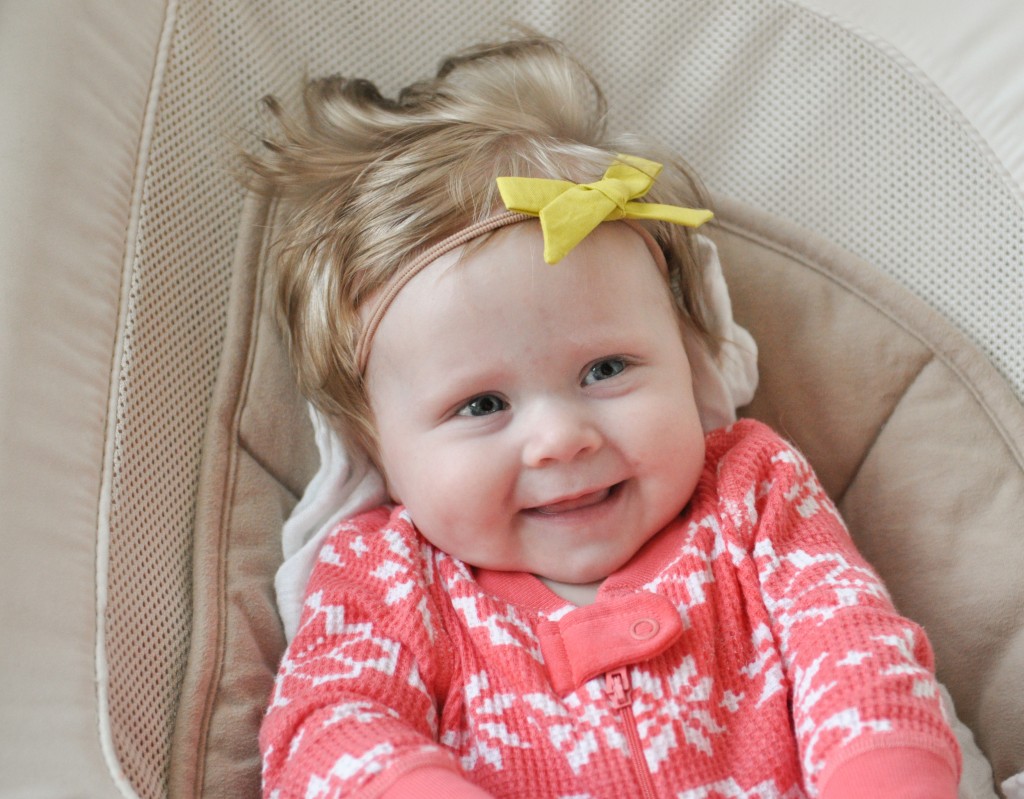 It's a quick, easy project and they make great gifts! So, if you've been looking for a fun, quick sewing project or want a quick gift to go with your handmade double gauze swaddle blankets, here it is! (Make sure to pin this for future reference!)


To start, you'll need to gather up your supplies:
12.5″ x 1.75″ scrap of fabric. (I made mine from the solids in our shop's Rhoda Ruth Solids Bundle)
Matching thread (it will show!)
Turning tool (I recommend using a large head metal crochet hook. i broke 2 plastic turning tools)
Old Sewing Machine Needle
Embroidery Needle
Starch (I REALLY recommend this spray starch. It doesn't leave a dirty grey residue)
This type of Dance Tights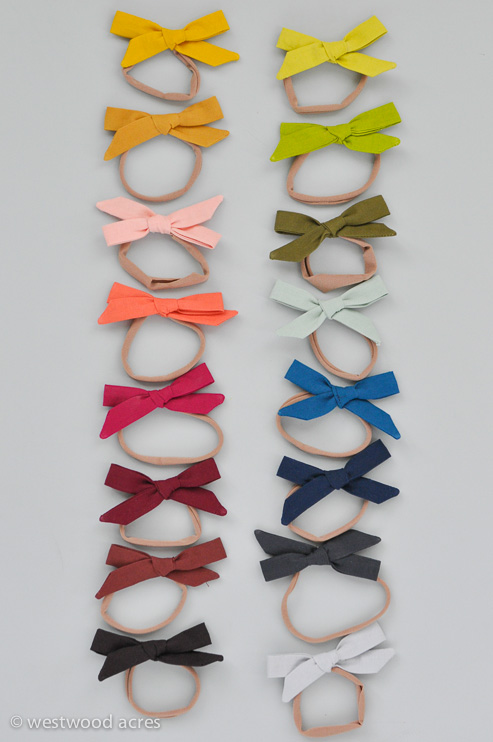 Let's get started! Fold your fabric lengthwise right sides together and stitch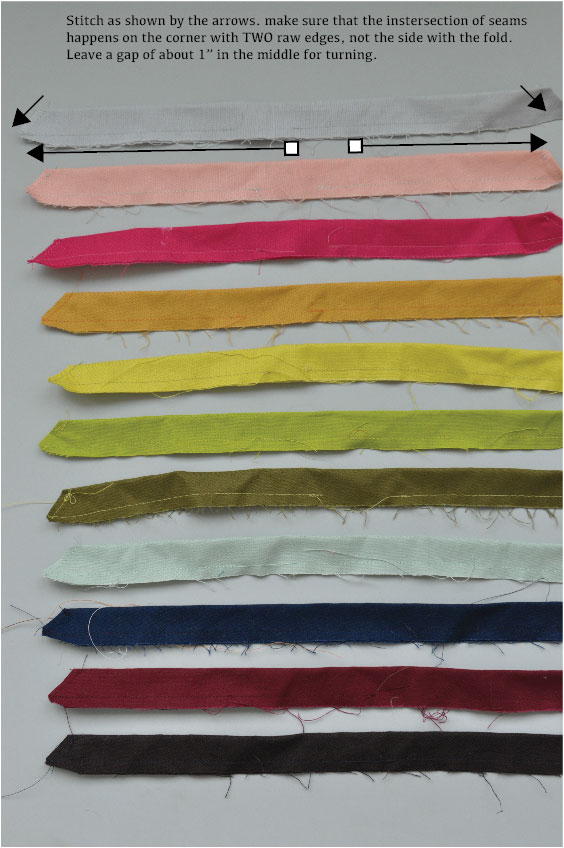 Trim the ends as shown in the picture. Using your turning tool, insert the turning end into the tube and twist, pulling the ends out. You won't be able to get a good point yet. Go ahead and grab your dull sewing machine needle. Veeerrrrry carefully, pull the point out.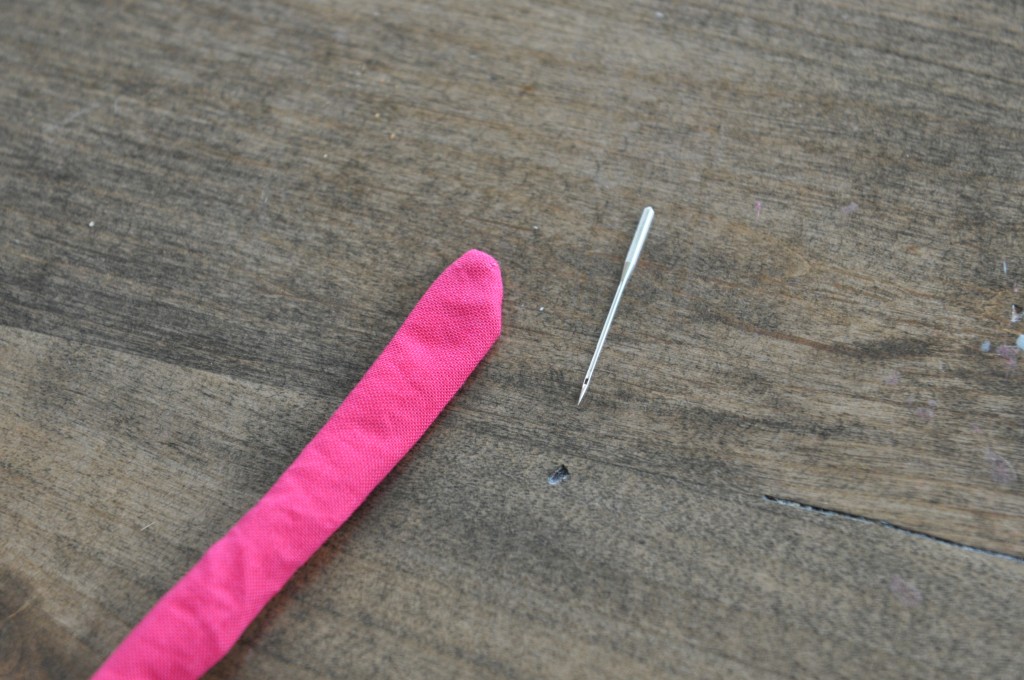 Once you've pulled out the point, finger press (or iron) the seam allowance of the opening under and stitch it closed with a ladder or slip stitch.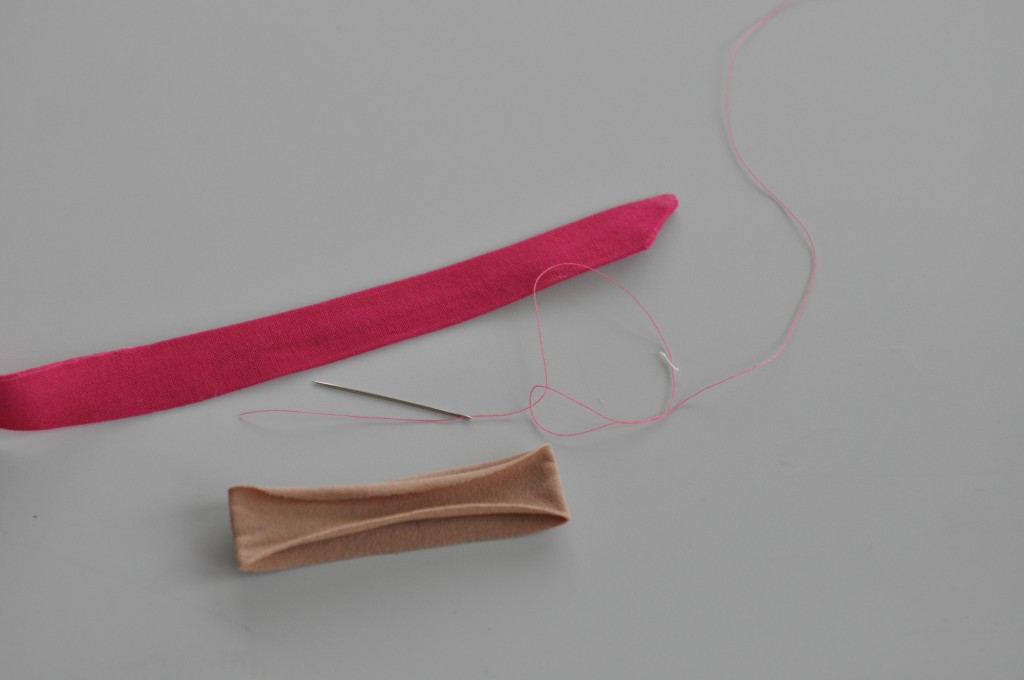 Using starch, press the bow flat flat flat. Use lots of starch. Let it cool under a heavy book.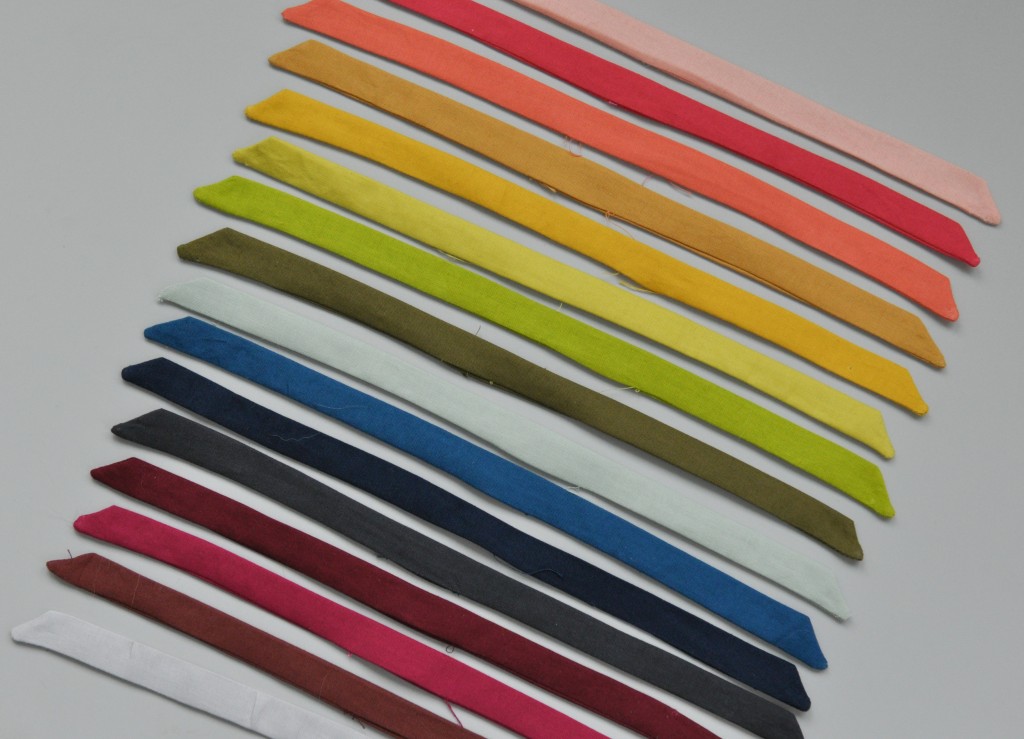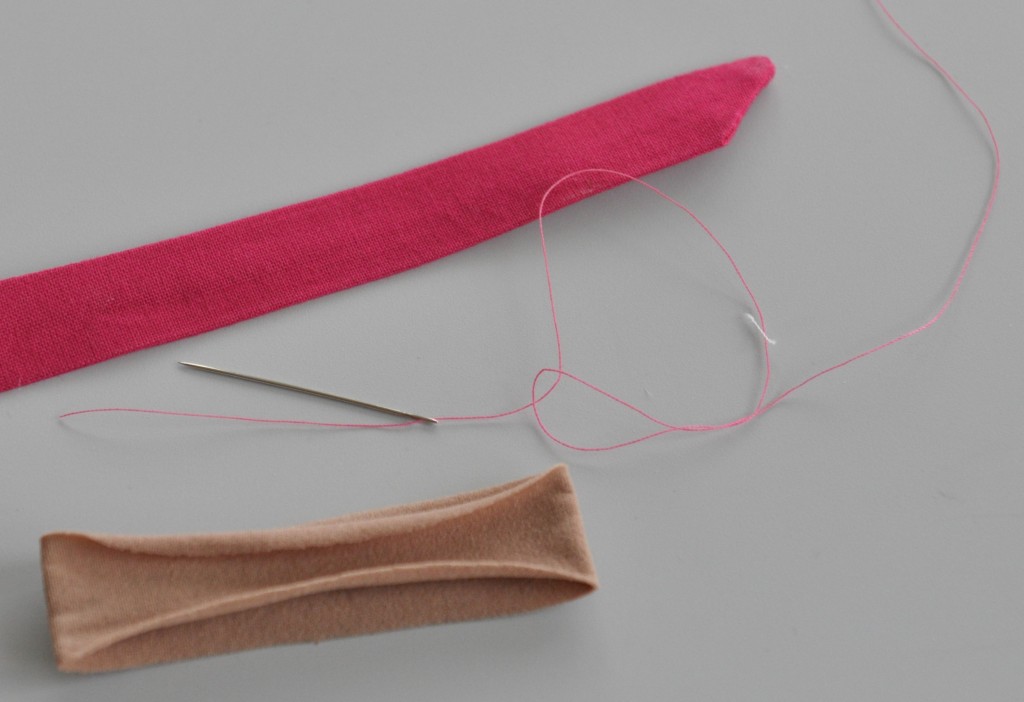 Ok, so now it is time to tie these to your head bands (you could also tie these around a toothpick and then insert a clip instead). Slice a 3/4″ piece of width of the tight's leg. Fold the hair bow fabric 1″ from the center. I'm right handed, so I had the longer side on the left.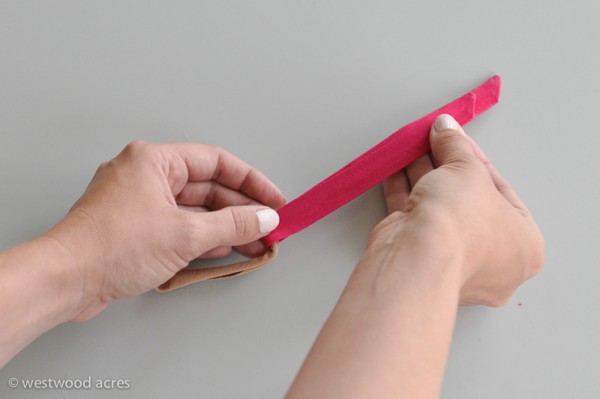 Fold the tips down to form two loops.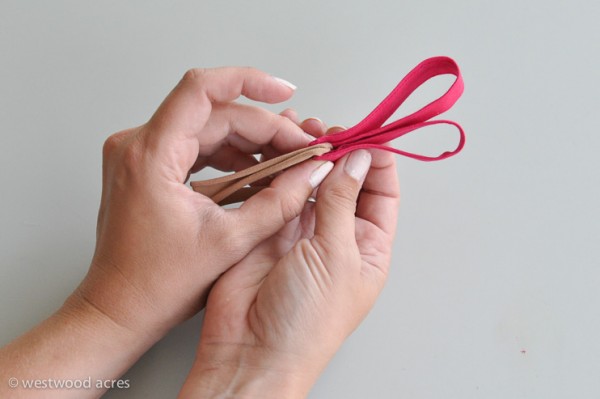 Cross the LONGER side over the shorter side.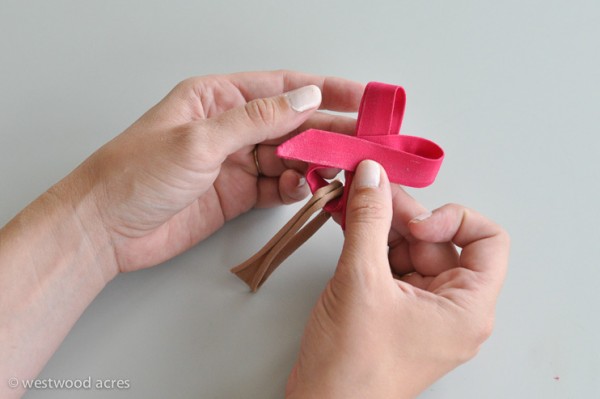 Tuck the FOLD of the longer side behind and through the opening (like tying shoelaces :)) Make sure you are keeping the fabric flat and straight. Avoid twisting it. (also, you can see I didn't use the starch I recommended – don't use Faultless!)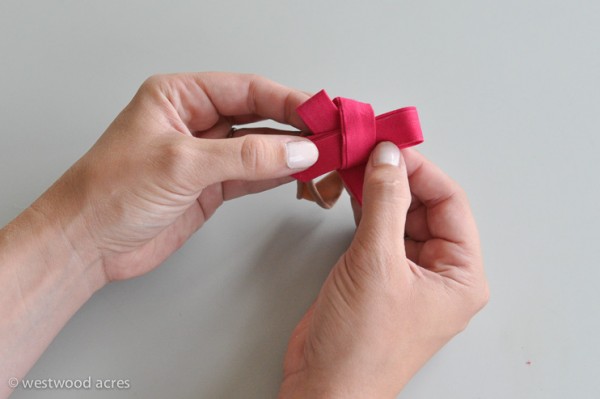 Pull the bows tight by pulling the loops away from each other. Even things out if necessary by loosening the bows by tugging at the bottom ties.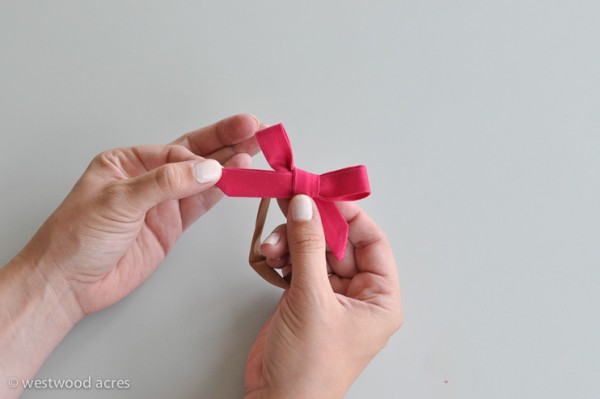 Lastly, insert a stitch or two on the backside of the bow, permanently securing the bows shape. Otherwise, when your three year old finds them, you will have to press & retie all of them (Ask me how I know)

Now you can make your baby a whole rainbow of pretty bows. And they would be stunning out of Liberty fabrics!
I really appreciate you reading along with me. I've decided that I really miss actually blogging, writing tutorials and taking pictures with my real camera.  I'm hope to put more time and effort into it in the future. If this is the type of content you would like to see more of (or if you have questions, thoughts, etc) I'd love to hear from you in the comments section! And if you like the tutorial, I would be incredibly grateful if you'd share it on pinterest! Thank you again!
xo