It doesn't seem like I find my way to this space very often these days. Instagram has taken hold and won't let go. I do miss expressing myself in more than 30 words. But today, most of my words are silenced by my new pillow.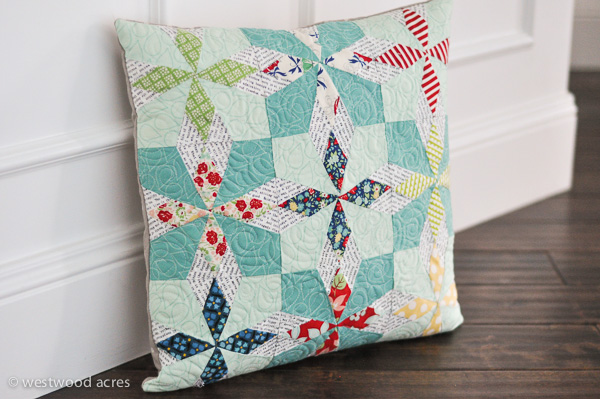 I LOVE how this pillow turned out. It is based on a classic, traditional block named the 'Key West Star'. Here, I've reimagined it in the upcoming Bonnie and Camille line for Moda, April Showers. It isn't due out until March, but I was gifted some scraps and I can't get enough of this mint color! Add the red and the navy and I absolutely can't resist! You can see more of these pretty fabrics over on Camille's blog or Bonnie's blog. A tiny piece of my favorite Denyse Schmidt print may have snuck in there as well. Don't they play well together?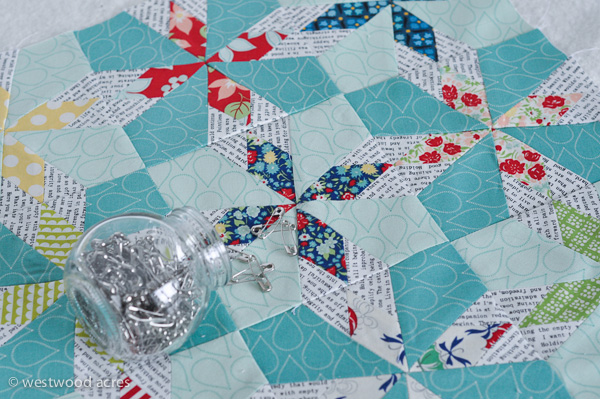 There is something so fulfilling about finishing a pillow. It doesn't take so much time that I feel invested in keeping it around forever, but it keeps my hands busy and lets me attempt new things without the fabric and time commitment.
If you are a fellow pillow-aholic, make sure to follow along on this fun blog hop arranged by the adventurous Amy Ellis. Her pillow looks like a lot of fun, but a bit of a challenge! Each day this week, our little group will be sharing pillow tutorials. Follow along! If you make a pillow based on any of the pillows shared this week, make sure to link up on the 24th at Amy's blog to win fun prizes and cheer each other on!  The schedule is:
Monday: Amy Ellis at Amy's Creative Side,
April Rosenthal of Prairie Grass Patterns, and
Lisa Calle of Vintage Modern Quilts
Tuesday:  Natalia Bonner of piece and Quilt
Amanda at A Crafty Fox  (YOU ARE HERE 🙂)
Wednesday:  Heather Valentine of the Sewing Loft,
Megan Bohr,
Amy at Diary of a Quilter , and
Vanessa of V & Co
Thursday:  Maureen Cracknell Handmade,
Amanda Jean of Crazy Mom Quilts and
Dana at Old Red Barn Co
Friday:     Christina of The Sometimes Crafter,
Heather at Alamode Fabric,
Audrie of Blue is Bleu and
Amanda from The Quilted Fish
Thanks bunches for stopping by!
(This block is not an original creation, simply my interpretation of an historic block. If you are a fan of modern-vintage blocks, some other great places for ideas are here, here, and here.)