Five Friday Favorites:
1: My husband. This man is more patient than Job, I swear. He'll be gone next week and I am already missing him.
2: Outlander on Starz. We just started watching this, but now I remember how much I love James Alexander Malcolm Mackenzie Fraser. Have you read the book?
It's my #2 favorite (#1 will always be Jane Eyre. Always (I LOVE this pretty copy of Jane Eyre but I won't be paying $200 for it, you know?))
3: My simplified grocery list. My kids are eating healthier and I don't have to solve the snacktime problem anymore.
4: The 10% or 15% off sale on everything going on at Sephora. I've been waiting for this for MONTHS! I restocked a bunch of can't-live-without items like my favorite eyeliner, mascara, and the AMAZING Good Genes serum from Sunday Riley. It completely changed the texture of my skin. I also recently bought this seashell shaped eyeshadow palette and every color works for my green eyes.
5: The song 'Boxes' by Goo Goo Dolls. I've probably listened to it 50 times this week and it is giving me all the feels. I love things that make me feel.
Life Update:
I've received a few queries about finishing the '31 days to happy' prompts. And it's something I need to do. A few weeks ago, my phone was out of memory and it was taking ridiculous amounts of time to try and do anything on it. So I tried to clean it up and back it up on my computer. But my computer was also out of memory and trying to back it up caused some issues. I lost a bit of work and need to go back and redo it.
If you know me, you'll know that just opening my computer makes me groan. I pretty much hate being behind the screen. Especially now that the weather is warming up and I really REALLY want to be outside! In the quiet without a computer or a phone, I finished a few quilt tops including this one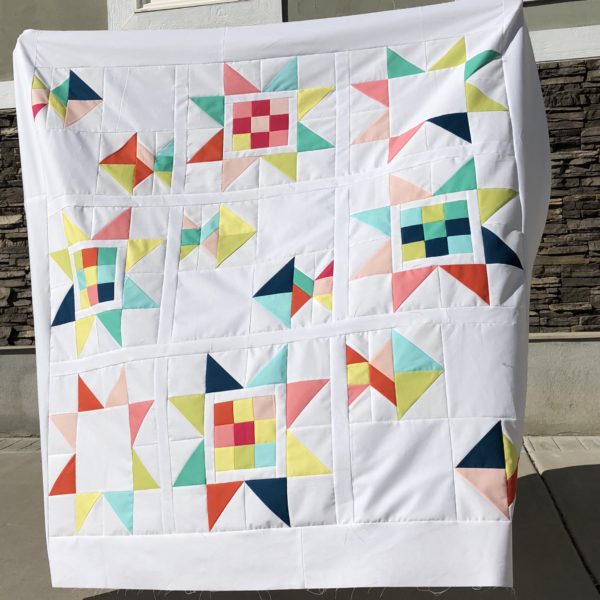 I also finished a few other works in progress that I can't wait to show you! My family also headed to Las Vegas where we hiked a bit in Valley of Fire, which was an absolutely STUNNING desertscape.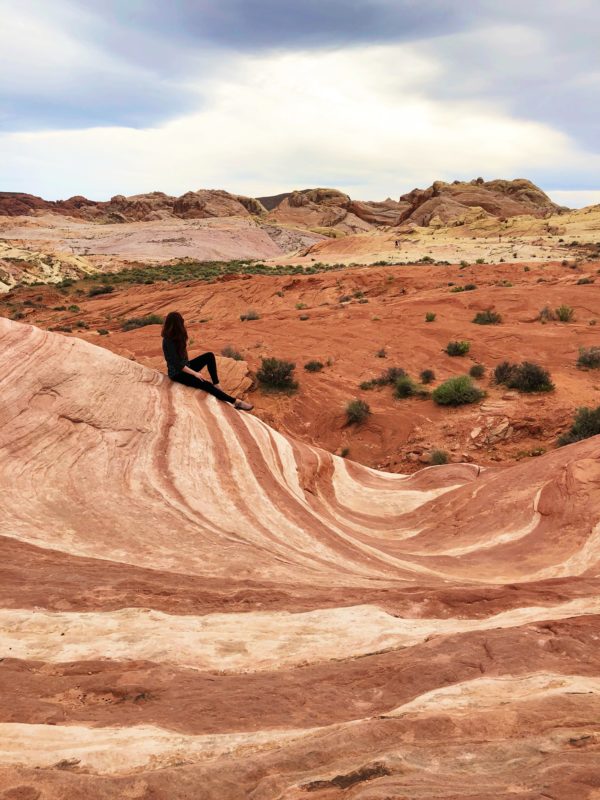 I had never been to Las Vegas except to drive through on our way to California, so this time we walked the strip. I'm pretty sure that one visit will tide me over for the rest of my life. Who really wants to have someone staple things onto their skin?!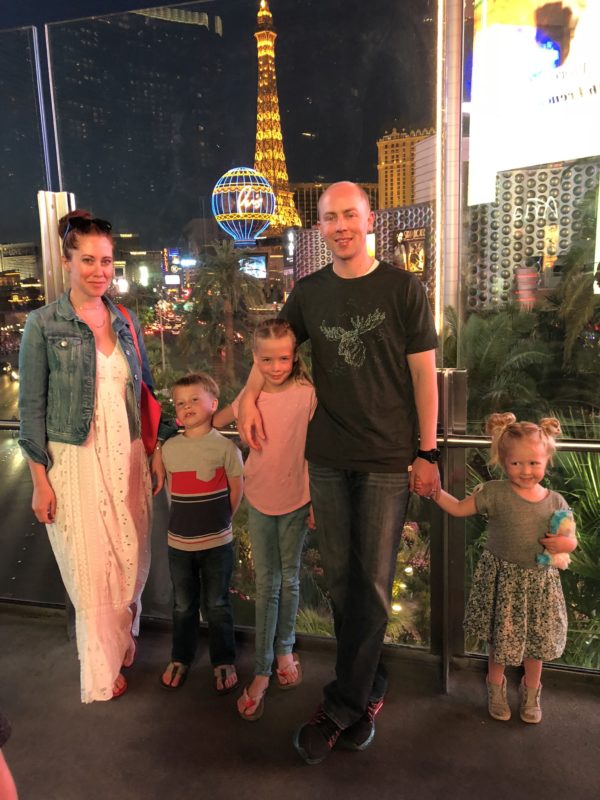 I've blogged here erratically since my oldest was just a tiny baby, so it feels like time for an updated family picture. My baby is now one month from turning three and my oldest is 8. I'm not sure how time flies so quickly. I remember everything like it was yesterday and it can be so hard to not get lost in my own memories when I look at how grown up my children are becoming. In fact, I remember writing a blog post WHILE I was in labor with Britton. I pressed 'publish' and he was born about 5 hours later. He just turned six. SIX!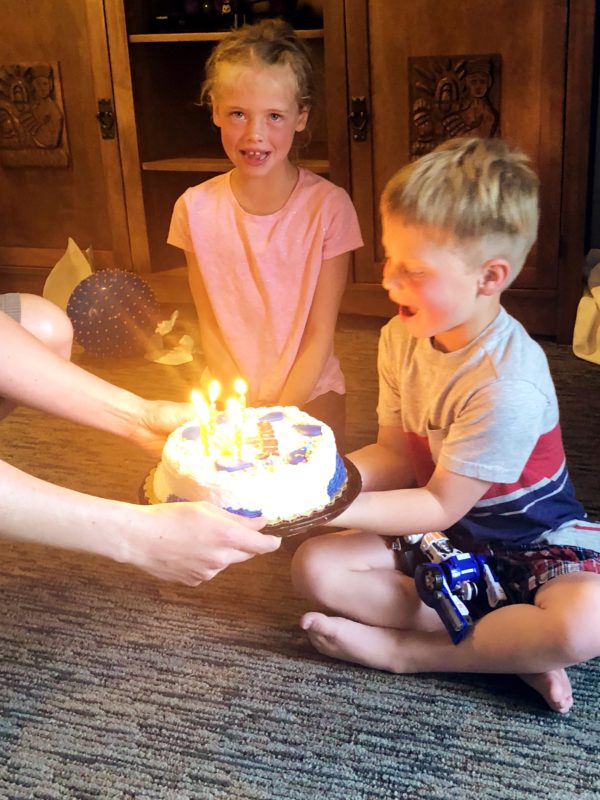 I've also fallen in love with two color quilts. I may start a friday favorites. If I do, my favorite thing right now is this quilt (sorry for the terrible picture!)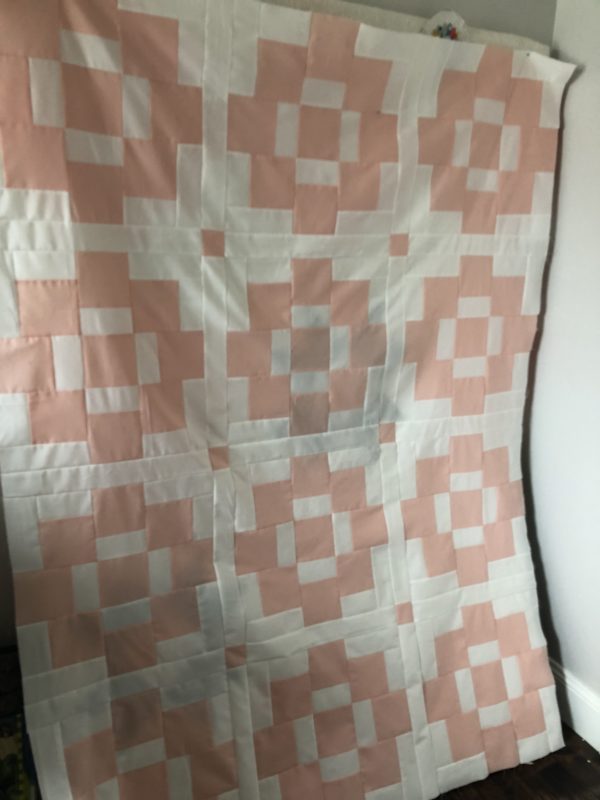 The pattern comes together SO FAST. I found a bunch of hacks and I'll be bundling it with a few other patterns that I've written for two color quilts. They are simple and I love using them just because they calm me down. Sometimes too many prints can feel overwhelming.
Does anyone else ever just want to simplify? It's been a theme in my life lately. Grocery shopping had gotten overwhelming, especially with all of my kids wanting different snacks and cereals. So now I just buy grapes, carrots, apples, cheese sticks, and bread for snacking and we've limited our cereals to just honey nut cheerios, apple cinnamon cheerios and multi grain cheerios. At first my little people gave me push back, but now they've fallen in the routine and I don't have to struggle with 'mom, what can i eat??!' The simplification in this area has reduced a LOT of stress in my life. These quilts are kind of like that for me. I can create, but there's no second guessing of where I should put each print, each block, or how to arrange the different volumes. It's sweet, simple, and beautiful. Simple things are often beautiful.
I'm picking up a few new quilts from my long armer (hopefully today!). If anyone ever needs someone, I use Melissa of Sew Shabby Quilting and she's a miracle worker and sweet as can be.
So, hopefully soon I'll sit down and rewrite the last couple weeks of 31 Days to Happy. They generally take a few days of work, but I still have my outlines from before, just not the actual prompts. But I'm excited to share it because it is the tangible, measurable part of the program!