** There is a pattern for this quilt here 🙂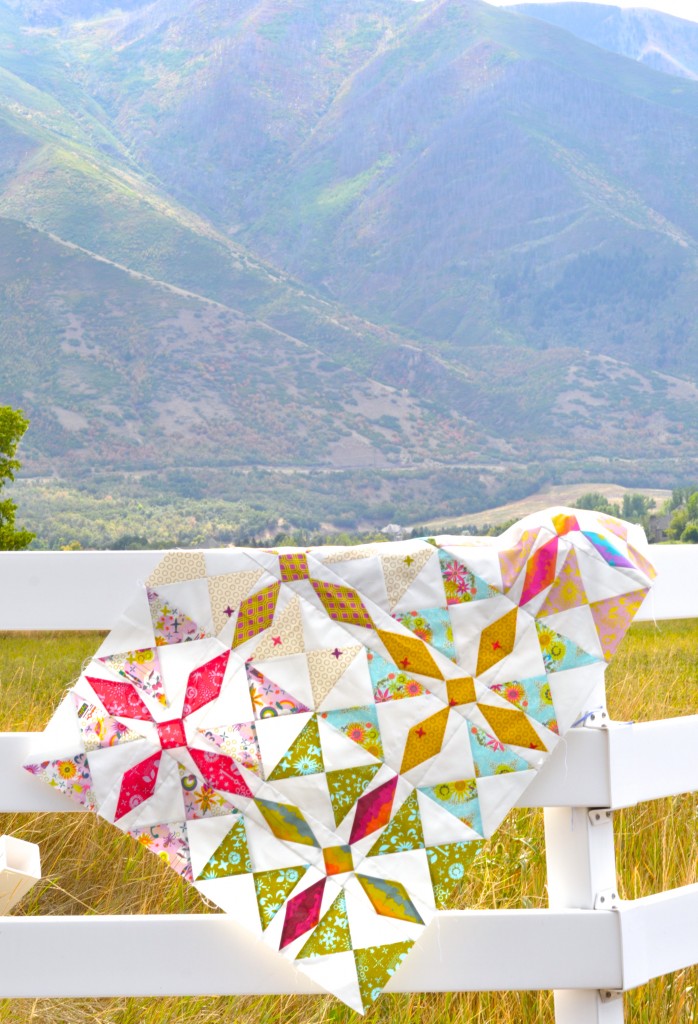 I am thrilled to be playing along on the Alison Glass Designs Blog Hop today! We are
celebrating her upcoming release Clover Sunshine this week. I can't think of a prettier
fabric line that has come along recently. This one is just so…. happy. It's
absolutely perfect.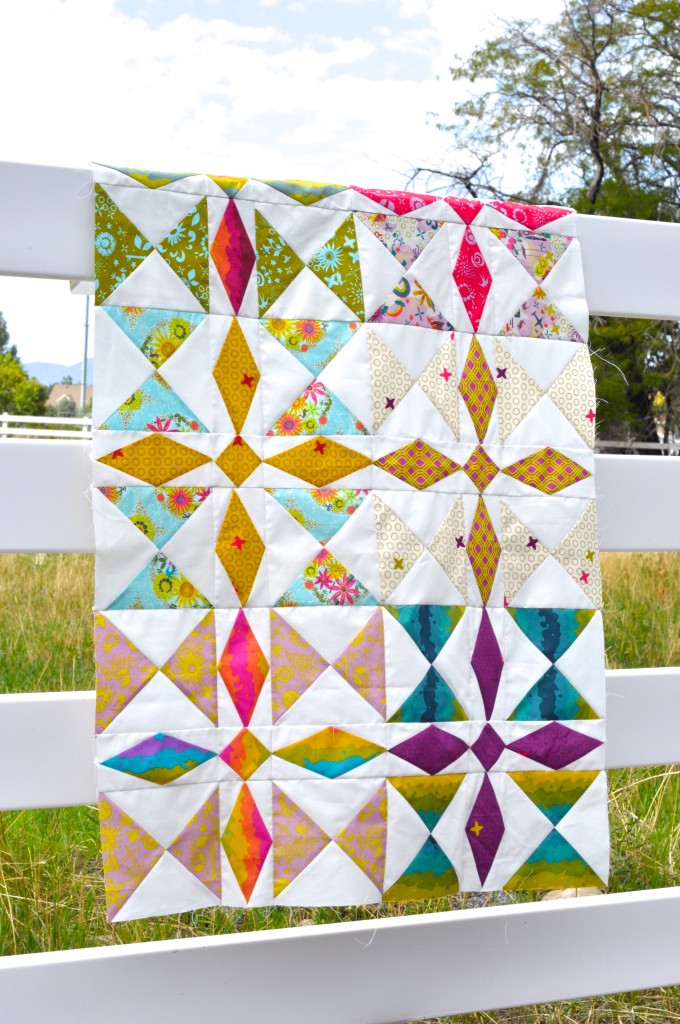 The colors are rich and bright and speak to me of fall, but not the pumpkin side so
much as the plums, blue skies, cooler weather and being able to go outside after the
heat of summer and have some fun. I'm so thrilled with how this little baby quilt
turned out. My points aren't perfect (or even close!) but I had a lot of fun making it.
And I smile every time I look at it. (PS: I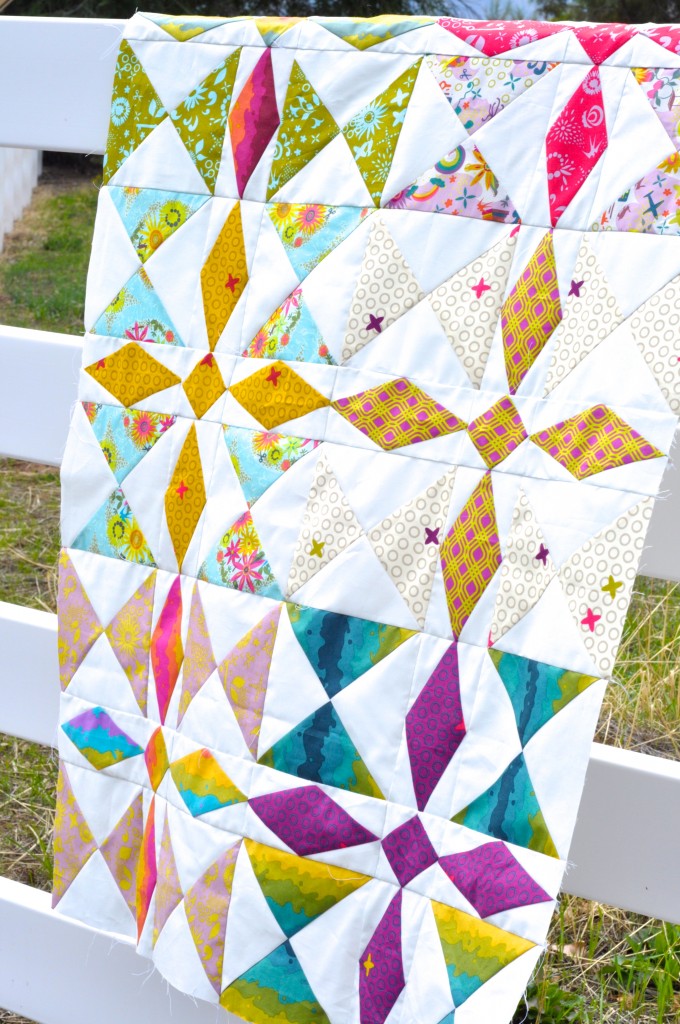 This is Alison's second full collection. Her first fabric line, Lucky Penny, totally
captured my heart. Her recent Sun Print Basics have flown off of our shelves. If you
haven't seen them, you can find them "https://www.etsy.com/shop/westwoodacres/search?search_query=Sun+print&order=date_desc&view_type=gallery&ref=shop_search">
here. Clover Sunshine should be arriving soon and I can't wait to see what everyone
makes with it! So, would you like a chance to work with some of these pretty fabrics?
Alison is very generously offering up a fat
quarter of all of her recent and upcoming fabrics! Hop on over to her blog for a chance to win (and make sure to
follow her @alisonglass on Instagram to keep up with all the pretty fabric peeks!
If you haven't already, you can stop by these amazing blogs for more
chances to win Alison's fabric collections and her gorgeous new quilt pattern (created
with the wonderful Nydia from "http://www.add-crafter.com">The ADD Crafter)
Group 1 – Feathers, Text, Party Streamer
8.19.13 – Olivia Jane
Handcrafted
8.21.13 – One Shabby Chick
8.23.13 – Silly Mama
Quilts
8.26.13 – Threadbias
8.28.13 – KD Quilts
8.30.13 – April Rhodes
Group 2 – Feathers Quilt Pattern
9.2.13 – The ADD Crafter
9.4.13 – Sew Sweetness
9.6.13 – I'm A Ginger Monkey
9.9.13 – Ellison Lane Quilts
9.11.13 – Olivia Jane
Handcrafted
9.13.13 – Imagine Gnats
Group 3 – Clover Sunshine
9.16.13 – Crafty Fox
9.18.13 – One Girl Circus
9.20.13 – Sew Sweetness
9.23.13 – There and Back
9.25.13 – J.M.B.
9.27.13 – Modern Maven
Group 4 – Corsage, Bike Path, X & +
9.30.13 – Gen X Quilters
10.2.13 – Don't Call Me Betsy
10.4.13 – Canoe Ridge Creations
10.7.13 – Jacey Craft
10.9.13 – Bijou Lovely
10.11.13 – Fresh Lemons Quilts
PS: I have all the starflower picture tutorials taken, but haven't had a chance
to write them up, yet! Anyone want to come wrangle two very energetic children so I
can finish?!