I'm not sure what it is about fall, but as I feel the year wind down, the push to finish things gets impossible to resist. During our recent move, most of my projects got piled into bins and boxes and safely tucked into a storage unit. And after the transition, as I was unpacking I realized I had so many quilt tops and a shocking lack of finished quilts. So, I tucked in and went to work.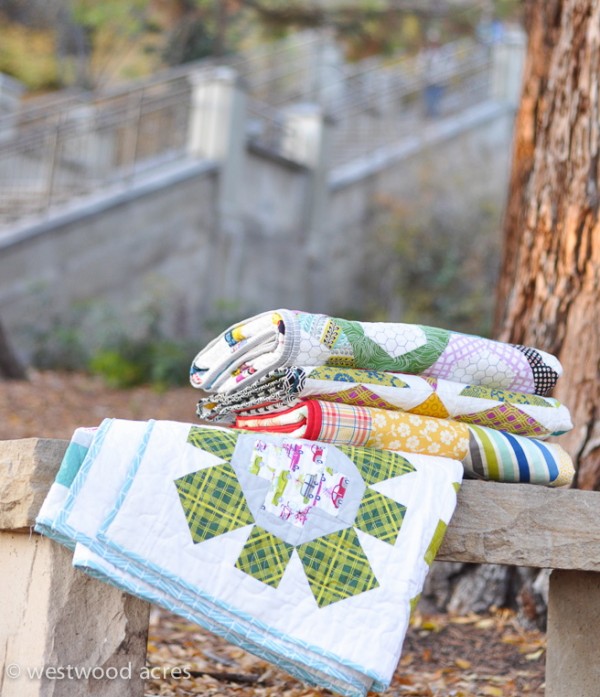 And now I am happy to say I am making progress through my pile. So, rather than make it appear that I created all of these quilts in the last month, I am going to go through them oldest to newest.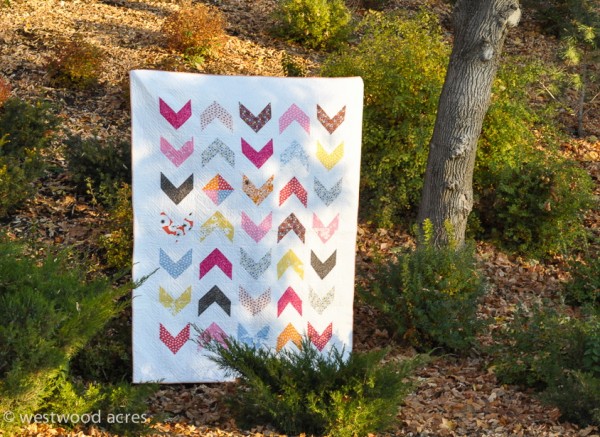 Do you remember way back here when I posted the tutorial for this fun chevron quilt? Right. Well, the top was as far as I made it at that time. It is a pretty big quilt to tackle on my home machine. I ended up sending this one out to Sarah Russet and she worked her magic and sent it back. I bound this one by hand and now it is officially DONE!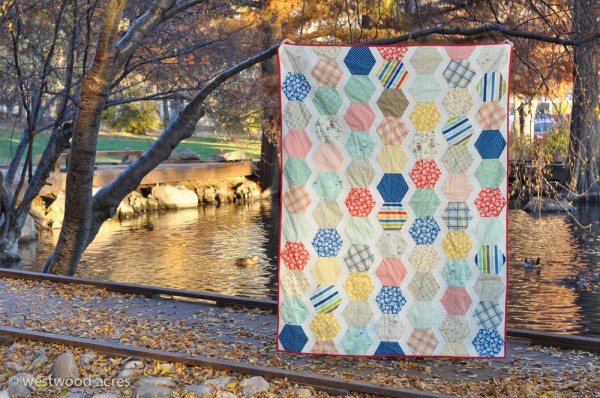 Then, there is this Hex-a-chevragon quilt that I wrote a tutorial for here. Once I saw how cute it was, I knew I wanted to make it a lot bigger. So, I made a bunch more blocks and stuffed them all in a bin when fall came. With a bit of help from my mom (Thanks, Mom!) I got the top all put together last spring. But we were in the middle of moving and my motivation fell apart. But I pulled it out again last week and LOOK! It is done! I couldn't be happier with this one. The pattern is a breeze (Really!) but it looks so fresh. I can't wait to put this on my little boy's bed next summer.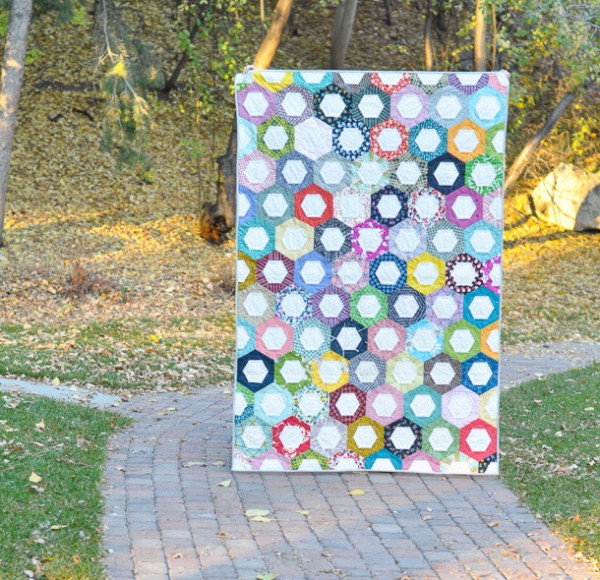 Then, sometime last winter I got Sarah Fielke's pretty book in the mail and couldn't resist her Bangles pattern. Shelburne Falls had just arrived and it seemed fitting to make a Denyse Schmidt tribute quilt. This quilt has at least one piece from every single line Denyse has released. Of course, I finished the top and set the entire quilt aside since I couldn't decide a fitting quilting design. Perhaps its a good thing I did, since now I was able to bind it in the grey Florence stripe. It's still current! (And I love how the quilting on this one turned out! I am glad I waited!)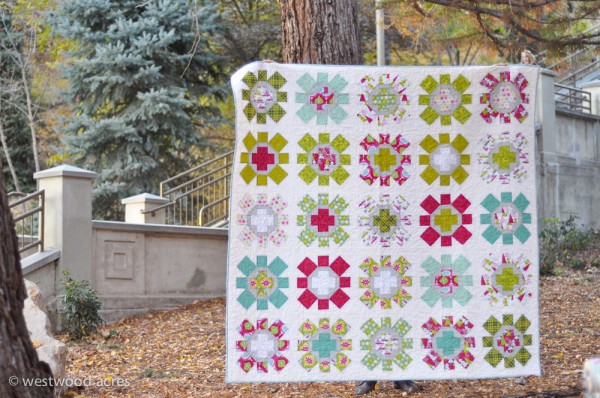 Then, in July my sweet mom came to visit and, while I was tempted to tell her to tackle my unfinished projects pile, I handed her a fat quarter bundle of Hip Holiday from our shop, Cluck Cluck Sew's Spin Cycle pattern, and both of my littles and I took off for beachier climes with my husband. I came home to a gorgeous finished quilt top and two very spoiled little people. This one is HUGE. I think I am going to put it on the guest bed this Christmas and hope it brings good company to join us for the holiday. There was no way I could tackle this one on my machine, so I once again sent it to Sarah (Thank you, Sarah!). She drew snowflakes all over it. How perfect, right?!
And you may actually remember the Clover Sunshine quilt I made right around back to school. This one was gorgeous with just six blocks, but I really wanted it 'me' sized. The points are not perfect (I won't be writing a tutorial) but the effect of these fabrics is just stunning. If you haven't already picked up your Clover Sunshine bundle, I would say run! don't walk. It is such a pretty collection and I just can't imagine not having another (bigger!) quilt out of it.
In order to get these done, I had to change a few of my habits. Usually, I like to piece my quilt backs. Like this: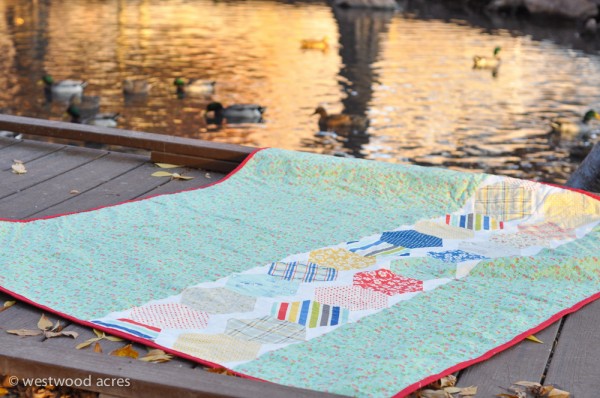 or like this: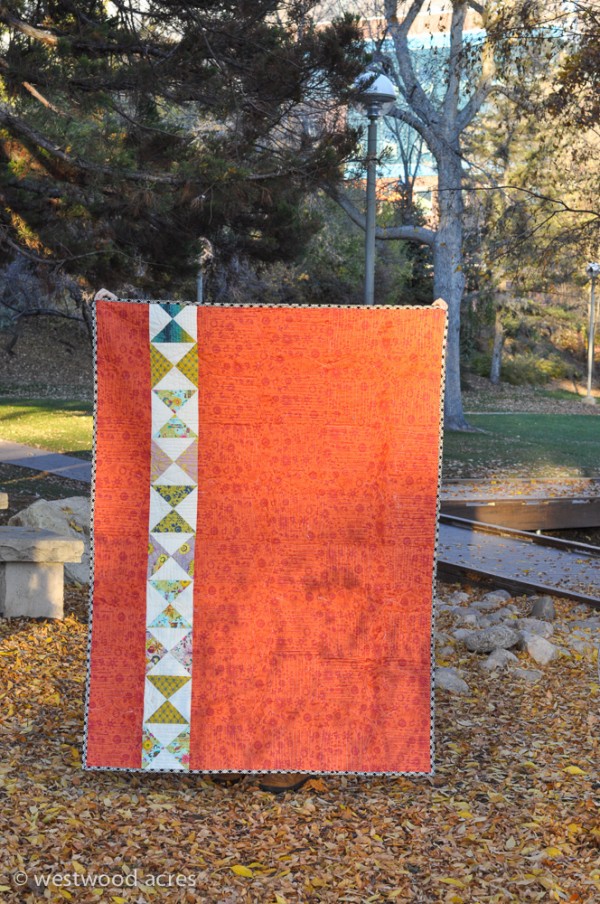 But for the other three, I chose solid backs that would make the process go faster. For some that meant a trip to Ikea. For the Bangles quilt I chose a 58″ wide Anna Maria Horner needleworks print (and I am now obsessed with that print for backing!). For the extra large spin cycle quilt I bought a piece of solid white that was 90″ wide. I felt a little like I was compromising, but I am truly happy with the results for each quilt. And sometimes, finished is better than perfect.
I also have always hand bound my quilts. This time, I did two of these by hand and three by machine. And you know what? The machine bound quilts are just as warm.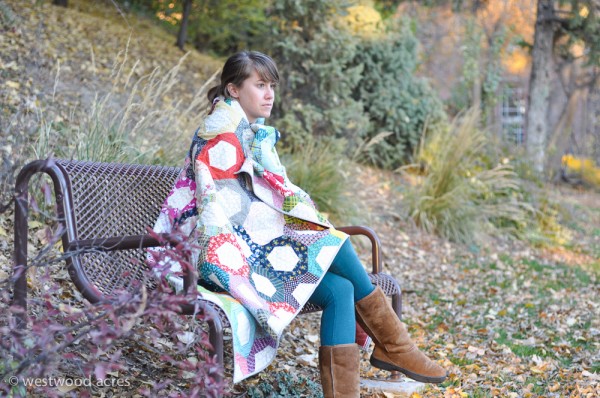 So thank you for following along! I have another dozen or so projects I am trying to tackle before the end of the year. And at least that many that I want to start! Are you finishing things up, too? Join us on Instagram for a little challenge (and quite a lot of bribery! check out the #westwoodacresgiveaway stream or follow me @acraftyfox_amanda)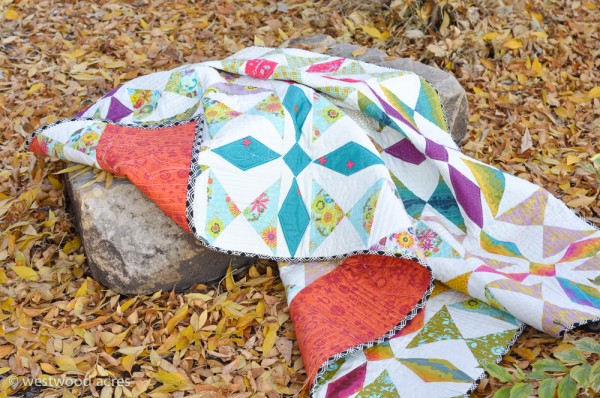 XO
Amanda