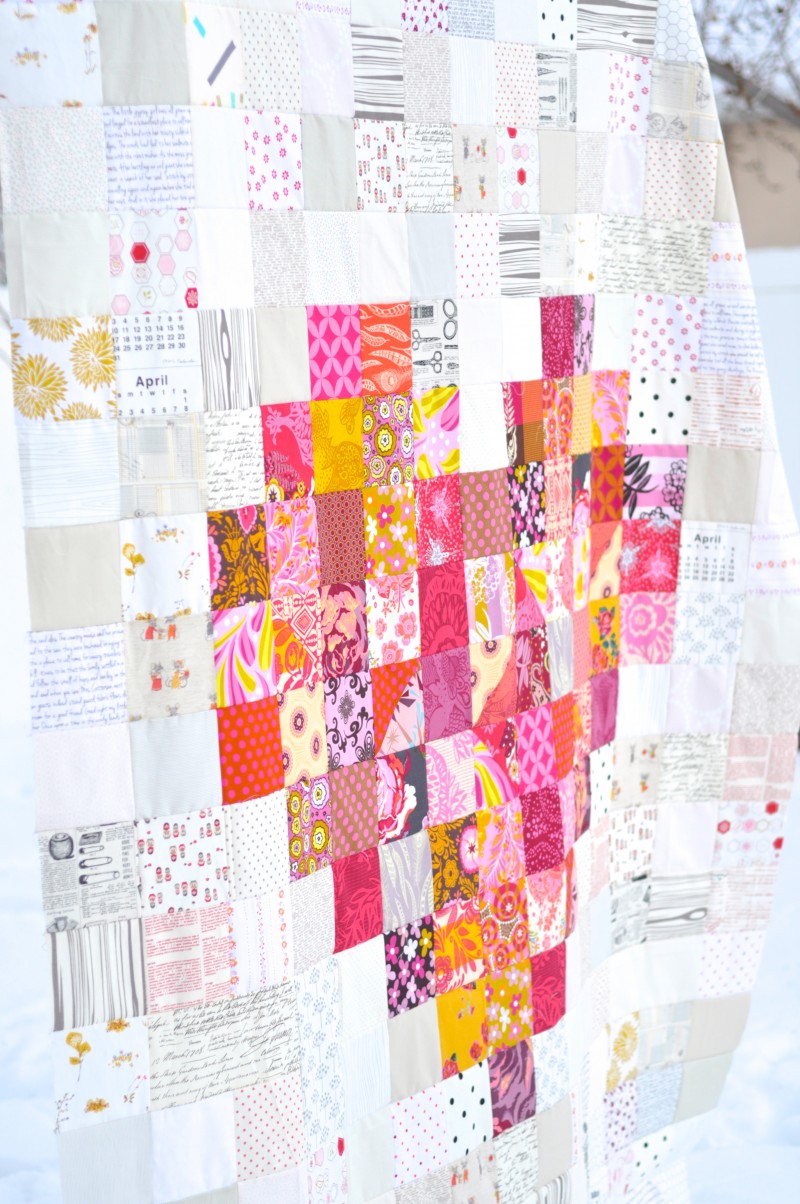 One of my favorite places to go when I am feeling uninspired is Jolene over at Blue Elephant Stitches. Her work is always intriguing and makes me want to put down the laptop and go sew. And when she put up this pretty little pixelated heart a few weeks ago and another appeared in my instagram stream made by my friend Kelly. Queue the quilt envy that followed and I knew I needed to make one too.

I didn't actually *Read* what Jolene wrote about making it a 9 patch and instead constructed it in rows. I laid the entire thing out on the floor. There are 70 colored 5″ squares and 215 low volume 5″ squares. I highly recommend doing this in a place free from 'helpers' who like to run through unassembled quilts. And once you have a layout you like, take a picture so if something happens you can put it all back.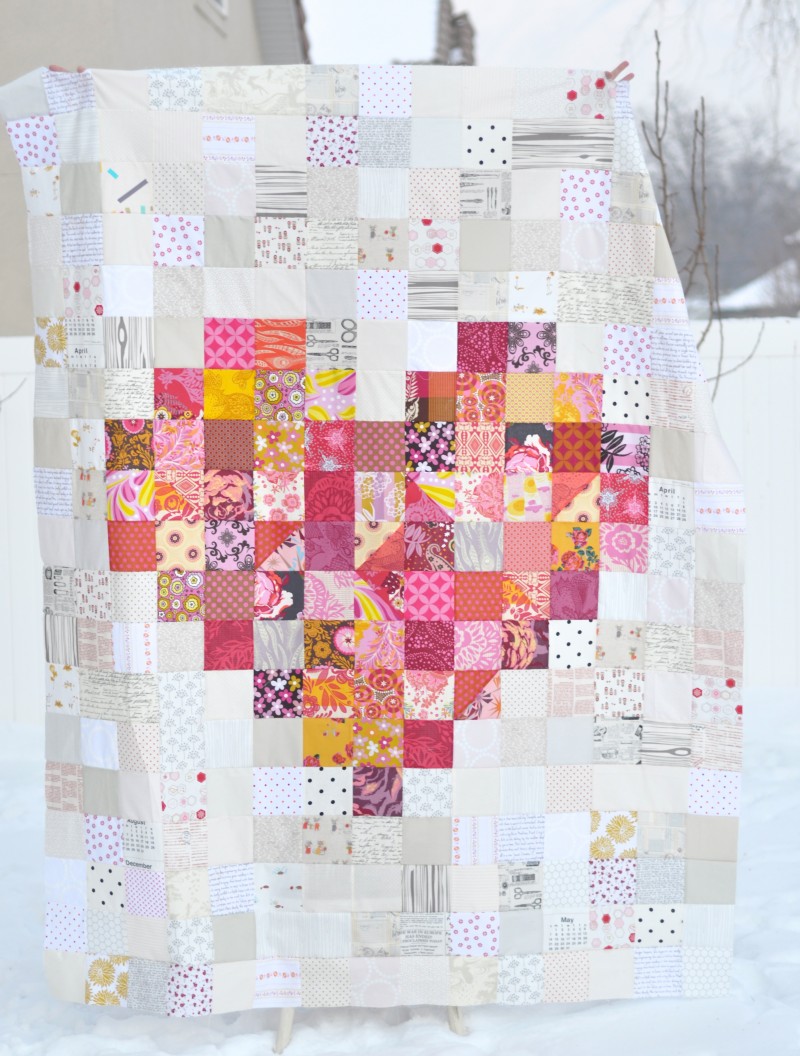 I piled my rows together and sewed them into long strips. I sewed the strips into pairs and then assembled the pairs into the quilt top. With the long seams, I made sure that I sewed the pairs from right side to left side and then the final assembly was sewn from left side to right side. This helps keep the quilt square.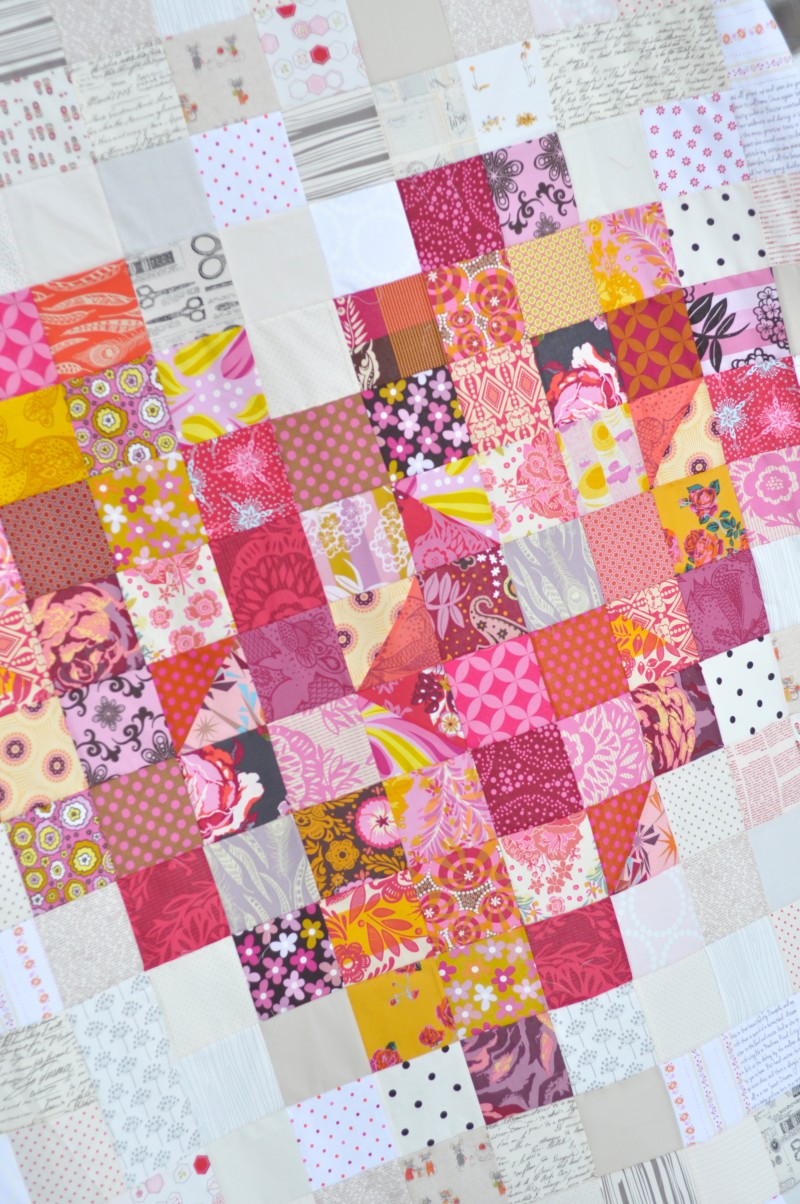 The heart fabrics are all Anna Maria Horner. There is a piece of each line of quilting cottons she has designed in there. The background is a variety of low volume and text prints from my stash. I used some solids from this bundle and some of the low volume prints from this bundle. Then I began filling in from my stash to add more variety. I see an entirely low volume bundle popping up in my shop in the next little while.
Today I'm off to piece a back for this one and then to decide how to quilt it. I'm thinking I want to add a lot of texture to this one, so we'll see what I come up with!