So was yesterday a success? If you did it (or it's already a habit) it feels so good, right?! If you want to read a story that will give you all the warm fuzzies, make sure to click the link at the bottom. If you are just joining us, this is day 9 of a 31 part happiness project. Make sure to read about what the challenge is about here and what you need to do first here.
Today we are talking about you. When was the last time you took care of yourself? I mean more than a quick shower in the morning and brushing your teeth before falling exhausted into bed at midnight. Today is day 9 of #31daystohappy and one of the most important days we'll tackle.
Today is going to be long. And there aren't a ton of pictures to break it up, so bear with me (or just scroll to the end for a delicious dinner idea!)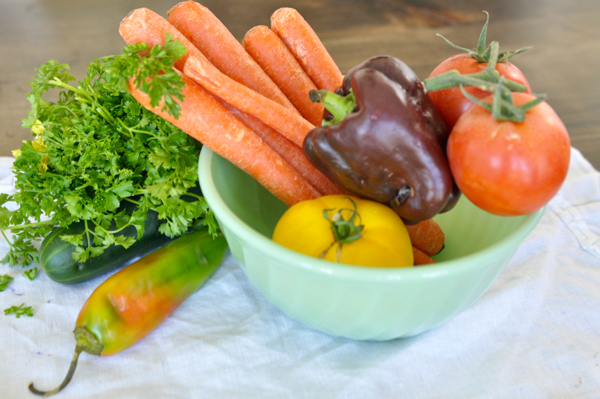 Last January, my anxiety skyrocketed but I couldn't figure out why. If I had looked a few months before, a very big change had happened. The stress of trying to manage my business and my home while Weston was sick meant I didn't cook much. I stopped being mindful of the food going into my body. Eventually, I nearly stopped eating altogether. After a hospital trip where I was referred to an eating disorder specialist, I began eating again but the anxiety didn't disappear.
A friend of mine has the opposite reaction. When her anxiety peaks, she wants to eat for comfort. My friend and I have different dietary reactions to anxiety, but similar outcomes.
After a lot of research and trial and error, I stumbled on a seemingly obvious answer. The food you put in your body is more than just calories or fiber and protein and carbs. There are very specific vitamins, minerals, and nutrients. When your body is missing any one of them, everything is thrown off. I couldn't even think rationally until I was able to increase my magnesium and vitamin d levels.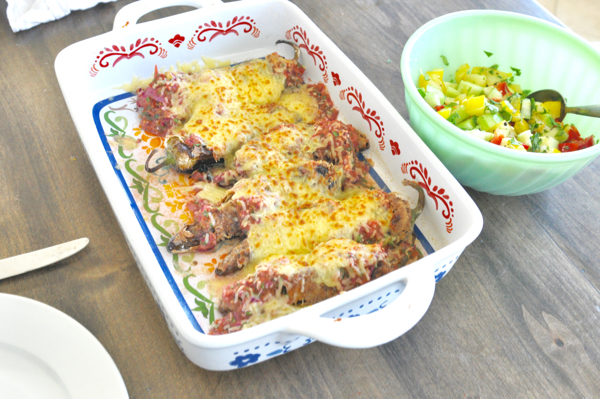 Eating is more than the sum of its parts. It is a daily reminder to take care of our bodies and a daily opportunity to shower ourselves with love. By thinking strategically and gratefully about what we will eat, when we will eat it – and what we hope to affect with the foods we choose – we create more power to direct our lives.
Day 8 -#31daystohappy
Be more mindful of what you eat and how it's prepared.  Plan tomorrow's meals so that you have time to sit without rushing and eat. Enjoy it more. Journal your honest thoughts about your current diet and make a list of where you can make improvements you can live with. Incorporate 5-8 servings (about 3 -4 cups) of fruits and veggies into each day.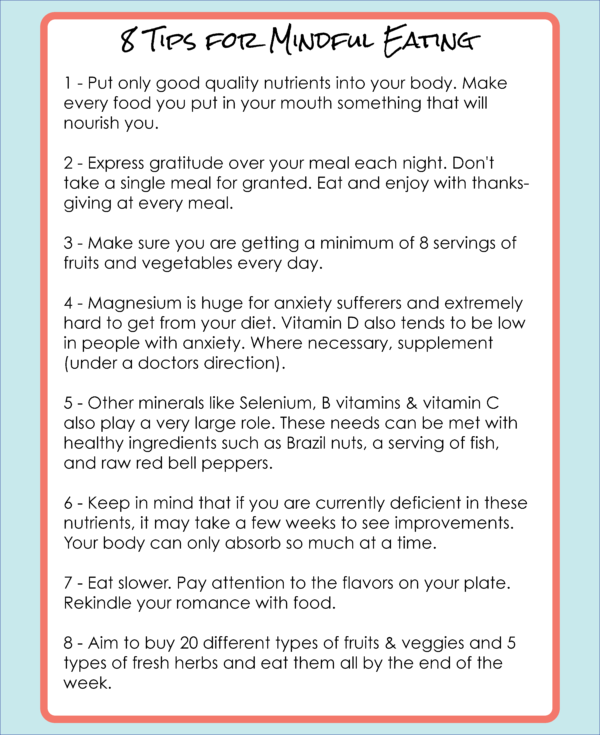 If you're following along on IG, I'd love to see what's for dinner! Please tag me @acraftyfox_amanda and use the #31daystohappy tag! Thank you everyone who shares over there! 
Here's a 30 minute dinner recipe I use to get all five servings of fruits & vegetables in just one meal (and it's gluten free and ovo-lacto vegetarian friendly!)
Chile Rellenos – Pinto Beans – Cucumber Pico De Gallo Salad
Ingredients:
6 Anaheim Chile Peppers
1 Red bell pepper
4 tomatoes
1 Garden Cucumber Peeled and Seeded
1 Red Onion
1 Yellow Onion
8 Cloves of Garlic
1 cup of Cilantro, chopped
1 Fresh Lime
2 Cans of Pinto Beans
1 Can diced Green Chiles
2 Eggs
1 Cup of Gluten Free Flour
1 Bag of Quesadilla Cheese (or any good melting cheese)
Salt, Pepper, Sugar, Cumin & Chile Powder.
Start by turning your oven on to broil.
Place 2 tomatoes, 1 red onion, and 6 Anaheim Chiles on a cookie sheet. Broil for around four minutes on each side so the skin is slightly blackened.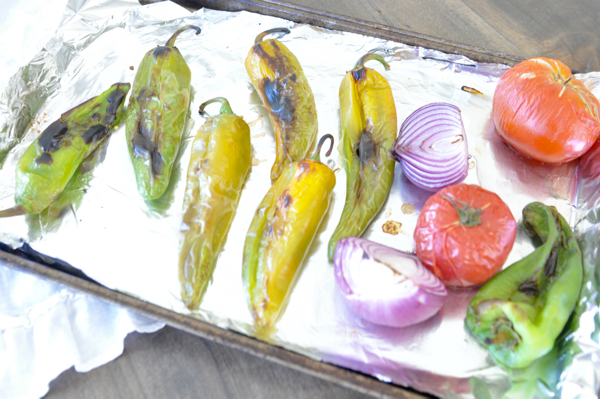 While the veggies roast, peel, seed & chop your cucumber, 2 tomatoes & red bell pepper. Toss in a bowl with lime juice & salt and pepper to taste. Set aside.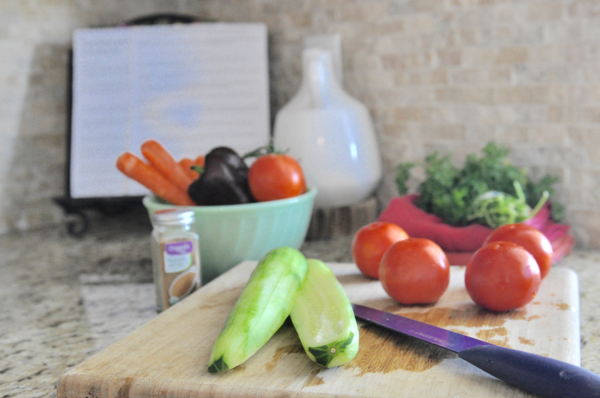 Pull roasted veggies out of the oven. Toss red onion, roasted tomatoes, 3 cloves of garlic (peeled), 1 tsp of sugar, 1 tsp salt and 1/2 cup of cilantro into a blender or food processor to make salsa.
Slice open chiles. Seed if serving to those who don't like heat. Stuff with shredded cheese.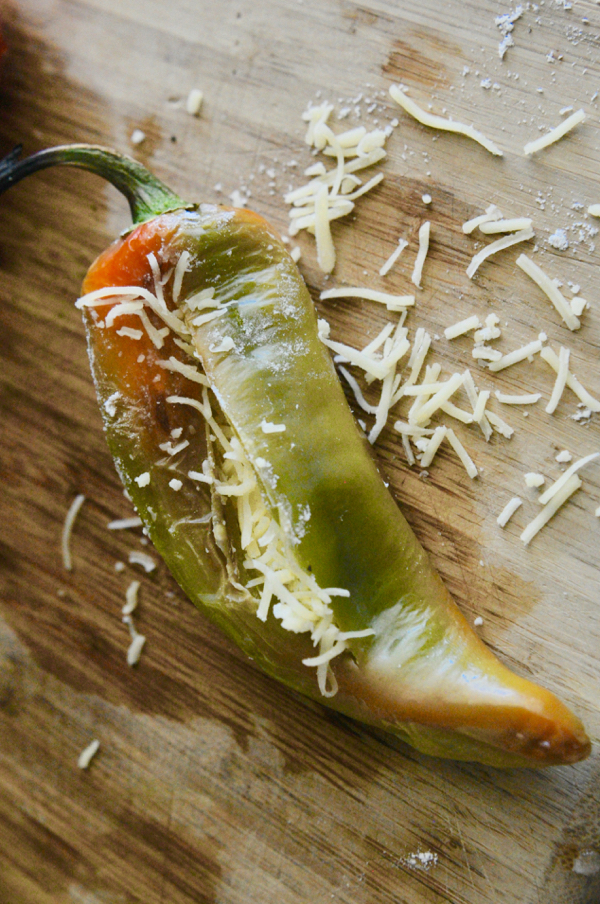 Put 1 Cup of Coconut Oil at the bottom of a heavy bottomed pan. Turn to medium-high.
Mix Eggs with 1/4 c of milk.
In a separate bowl, mix gluten free flour (I used Namaste brand) with salt & pepper.
Roll Chiles in egg mixture, then dunk in the flour mixture and toss in heated skillet. Turn when they start to show brown (use a spatula, not tongs!)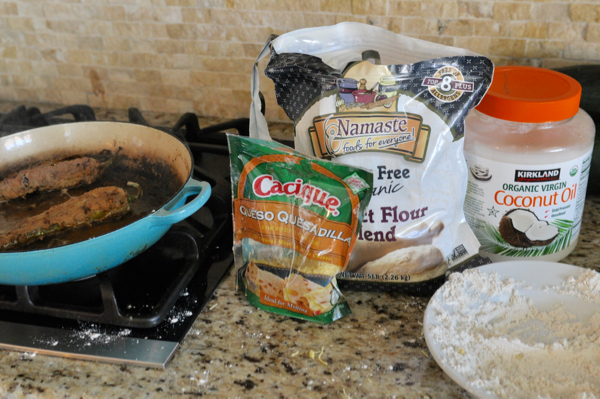 Once Flour mixture is cooked, throw in a pan, top with salsa and more shredded cheese and broil on low for 4-5 minutes. Keep a close eye on this as all broilers seem to be different!
In a separate pot, heat coconut oil and add in yellow onion and the other 4 cloves of garlic & salt. Allow these to cook together until onions are translucent. Mix 2 cans of pinto beans, 1 can of green chiles and 1 1/2 tsp cumin and 1/2 tsp chili powder. Cover with 2 cups of water. Simmer.
Pull Chile Rellenos from oven. Serve with beans & cucumber salad!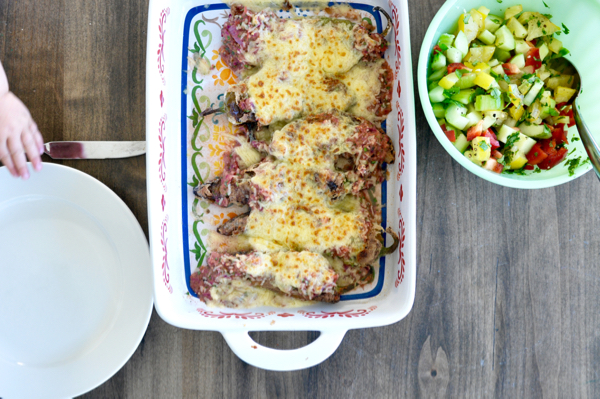 If you want a quick feel good moment, check out this story. It gave me all the warm fuzzies!
Lastly, I am not a doctor and nothing I write here is a substitute for medical advice. If you are suffering from a medical condition, please seek help immediately. For my full disclaimer, please click here